Bellapais Monastery Village
Kyrenia
Kyrenia
Historic luxury hotel in the spectacular foothills of the Five Finger Mountains overlooking Kyrenia's scenic coastline
Adult Only
Perfect for relaxing in elegant surroundings and exploring nearby cultural sites!
Bellapais Monastery Village hotel is surrounded by panoramic views and cultural sites near the beautiful North Cyprus village and 12th century Abbey of Bellapais. Offering high quality accommodation and first class service, this adults-only hotel is the ultimate place to relax and de-stress. Guests at this discreet luxury hideaway can enjoy relaxing spa treatments, landscaped gardens and a choice of beautiful pools for refreshing dips or sunbathing on the terrace. Bellapais Monastery Village is known for its exceptional dining at the rooftop restaurant, where the lights of Kyrenia's town and harbour twinkle far below after dark.
FREE WiFi in public areas
Why Holiday Makers Love it
Friendly & Helpful Staff
Comfortable Luxury Accommodation
Panoramic Harbour Views
Near Bellapais Abbey & Town Centre
Rooftop Restaurant With An Amazing Menu
Several Excellent Restaurants Nearby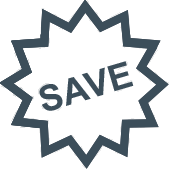 Special Offers available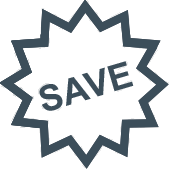 Special Offers available
Set in an unrivalled position in the foothills of the Five Finger Mountains in North Cyprus, Bellapais Monastery Village enjoys panoramic views overlooking the town and harbour at Kyrenia. This adult's only (12 years+) hotel offers a serene atmosphere and elegant furnishings inspired by the nearby 12th century Bellapais Abbey.  
Guests to this exclusive luxury hotel will appreciate its character, elegant interiors, panoramic views and beautifully landscaped gardens which engender relaxation. Accommodation is in one of the well-appointed hotel rooms, mini villas or luxury suites which all demonstrate great attention to detail. The superb service, delicious cuisine and adults-only environment make this the perfect hotel for romantic breaks and luxury holidays exploring the idyllic surroundings and ancient historic sites nearby.
Cyprus Premier Experts Recommend
Bellapais Monastery Village is a delightful adults-only place for relaxation and enduring local history and culture. The 12th century Abbey was once the home of British writer Lawrence Durrell (1912-1990). Set in the foothills of the Five Finger Mountains with stunning views of Kyrenia harbour and town, it is a place of inspiration and relaxation.
Bellapais village is famous for its natural beauty and is a gentle 15-20 minute stroll from this luxury hotel. Quaint streets are lined with local shops, traditional restaurants and cafes and festivals are frequently held here. Walkers will find plenty of wild flower meadows and walking trails right on their doorstep.
Just two miles from Bellapais Monastery Village is the ancient port town of Kyrenia. It has bustling streets, shops and cafés in former warehouse buildings which add an element of history and charm to the waterfront area. Other must-see attractions include Kyrenia Castle and Shipwreck Museum, The Carob and Cyprus Life Museum and The Icon Museum located in the former Greek Orthodox Arkhangelos Church. The remains of the Byzantine Catacombs are worth a visit, topped with a local restaurant!  
Beach lovers can enjoy some of the best beaches in North Cyprus just 15 minutes' drive away. Karakum Beach, also known as Diana Beach, is a private sandy cove with some rocks and a small restaurant. There is a small fee for access to the beach, and for the use of sun loungers and jet skis. Other popular beaches nearby include Catalkoy Beach, Escape Beach and Alagadi Beach.
Please note that some services and amenities may not be available during low season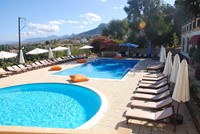 Three beautiful pools
Bellapais Monastery Village has three swimming pools to accommodate the needs of every guest absolutely perfectly. On cooler days, visitors can relax on day beds around the indoor pool. Sunny days make the two outdoor pools particularly inviting. The main pool is perfect for swimming beneath the sunny blue skies that North Cyrus is known for while the shallower round pool is perfect for non-swimmers seeking a cooling dip. The pool terrace is comfortably furnished with sun loungers and shady cream parasols. It's a relaxing place to read a good book, nap after lunch or socialise with fellow guests. The convenient pool bar ensures a steady supply of drinks such as specialty brandy sours, beer, soft drinks and light refreshments. Guests wanting a livelier option can make use of the pool and facilities at the sister hotel, Oscar Resort in Kyrenia, which is open to all ages.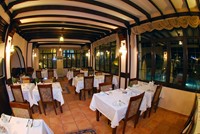 Dine Beneath the Stars!
Dine in style at the Bellapais Monastery Village with its comprehensive choice of international and local cuisine from breakfast and lunchtime snacks through dinner. The hotel has a lobby bar, a poolside bar and a rooftop bar as well as a traditional restaurant. Enjoy the all-you-can-eat open buffet or choose something delectable from the chef-inspired á la carte menu in the evening. Dining al fresco on the rooftop terrace is a particularly magical experience. Enjoy soft breezes as you look down on the glittering lights of Kyrenia far below while enjoying mouth-watering cuisine.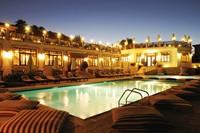 A Monastery of Music!
Guests at the Bellapais Monastery Village will not want to miss the night-time entertainment with local music and culture. In the summer the hotel provides a main banquet once a week. The traditional North Cyprus dish of kleftico (slow-roasted lamb) is served with delicious side dishes. Entertainment includes local music and dancing. Come join us!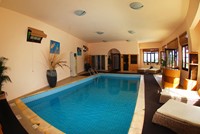 Mountain Spa Retreat
Indoor Swimming Pool and Spa Area The luxury spa at Bellapais Monastery Village induces relaxation and wellness. As well as the indoor pool and spa, there is a sauna, steam room and exercise bikes for burning off those delicious dinners! Massages can also be arranged. The indoor pool is the perfect place to chill out on a winter break in Northern Cyprus in a cosy and relaxing environment.
Where is the Bellapais Monastery Village?
The Bellapais Monastery Village is situated on the hillside under the picturesque village of Bellapais, around 2 miles southeast of Kyrenia town centre. The hotel is within walking distance of Bellapais Village and the well-known Bellapais Abbey.
13 minutes drive to the sandy nearest beach (Diana Beach)
5 minutes drive from the Bellapais Abbey
2 miles from Kyrenia town centre
45 minutes transfer from Ercan airport
1 hour 20 minutes transfer from Larnaca airport
Bellapais Monastery Village
Kyrenia