7 Nights

Mon, 10 May 21

Mon, 17 May 21
Concorde Luxury Resort (Bafra)
Hotel Details
Customise Your Holiday
Summary
Final Step
Concorde Luxury Resort
Bafra
Bafra
Ultimate luxury awaits you at this brand new masterpiece!
ULTRA ALL INCLUSIVE
Family
Luxury
Beach
Highly recommended by Cyprus Premier
Concorde Luxury Resort is a newly launched masterpiece that epitomises luxury in every angle. From its innovative rooms to its incredible selection of pools, its private sandy beach and the exciting activities it offers for all age groups, guests are guaranteed to have an absolutely thrilling experience.
FREE WiFi in Rooms & Public Areas
Why Holidaymakers Love It
Brand New Luxury Resort
Amazing Pools
Entertaining Activities
Excellent Kids' Club
Innovative Rooms & Suites
Beautiful Private Sandy Beach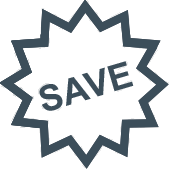 Special Offers available
Duration:
:
This offer can be combined with other offers.
Prepare to be amazed by the tremendous spoils of the incredible Concorde Luxury Resort, set in an enviable location with the stunning Karpaz Peninsula and the inviting Mediterranean Sea in the backdrop.
Situated on the beautiful beachfront amidst the unspoilt landscapes of the renowned Karpaz Peninsula, Concorde aims to impress with its exceptionally luxurious facilities, great accommodation options and the sheer magnificence of the atmosphere surrounding the hotel grounds. From the exciting activities covering exciting water sports, a fantastic Moppet Kids Club and engaging amphitheatre shows to its beautiful gardens surrounding unique pools and its first-class décor throughout, Concorde is an excellent choice for all age groups in all seasons!
The hotel is the pinnacle of luxury in every possible aspect. The hotel rooms feature private balconies offering stunning views, allowing guests the make the most of the beautiful location of the hotel. Guests have at their service a plethora of gourmet restaurants to the utmost delight of their taste buds. As well as the lovely pools and the thrilling aqua park, the hotel also has a luxury spa offering novelty massages and therapies. Concorde, without a doubt, offers one of the most elegant and luxurious holiday experiences in North Cyprus.
Cyprus Premier Experts Recommend:
Located on the southern coast of the Karpaz Peninsula, the resort is set amidst unspoilt landscapes with small villages scattered all around. You can even spot some traditional wild donkeys roaming the fields! The area is also host to one of the longest and most beautiful sandy beaches on the entire island, giving you the chance to enhance your holiday with an unparalleled beach experience.
The resort is also close to some fascinating historical sites and ancient ruins. One of these is the ancient walls of the Old City dating back to medieval times. Within close proximity to these walls are also Othello's Tower and the Namik Kemal Dungeon, as well as Lala Mustafa Pasha Mosque (St. Nicholas Cathedral) which is the largest medieval structure in Famagusta. In addition to its historical richness, Famagusta is a vibrant city with plenty of entertainment to offer, including many shops, great restaurants and a fantastic range of cafes and bars where you can enjoy a fun night out and experience the authentic culture of North Cyprus.
Please note that some services and amenities may not be available during low season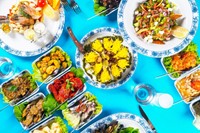 Board Basis
Ultra All Inclusive • Buffet breakfast, lunch, dinner and midnight buffet are served in the main restaurant. • Drinks are also offered in the main restaurant for this concept, diet buffet, themed buffet, kids buffet, and vegetarian buffets are also available. • The Buffet Tea Time - Cakes, savoury and sweet cookies, mini sandwiches 16:30 – 17:30. • Bellini Lobby Bar - Local and selected drinks, tea, coffee, beverages, coffee with alcohol is available (24 Hours). Extra Supplements are required for all food and refreshments from the A La Carte Restaurants. Room Service is chargeable.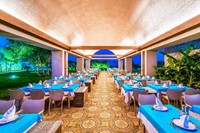 Gourmet Dining
Guests are spoiled for choice with the resort's impressive selection of (chargeable) gourmet dining covering Turkish, Mexican and Italian cuisines. The resort also boasts 11 bars offering drinks and light snacks, ensuring that guests have a wide range of tastes at their service.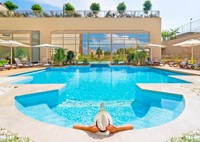 Incredible Pool Experience
With the resort's unique and innovative outdoor pools surrounded by landscaped gardens, two children's pool, an aqua park and a semi-opened heated pool in the spa area, guests will have the benefit of a pool experience of a lifetime!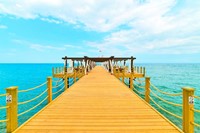 Fun Time at the Beach!
The resort's exclusive sandy beach offers guests the Mediterranean Sea with a luxurious touch with its complimentary beach towels and stylish sunbeds, umbrellas and mattresses. The beach also features many fun activities such as beach volleyball and a range of water sports.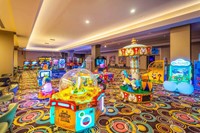 Lots of Activities for Kids
Kids are also guaranteed a fantastic time thanks to the hotel's exciting activities for kids including children's swimming pools, aqua park, playground, restaurant and mini club with a professional animation team!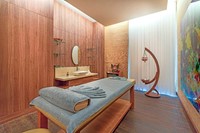 Luxurious Rejuvenation
Guests will simply be transported by the incredible services at the Sentire Spa, which features custom designed rooms with modern equipment. The spa offers a plethora of treatments and massage therapies, face and body, using high-end products - all carried out in an incredibly relaxing atmosphere. The spa also has a traditional Turkish Bath and a beautiful spa garden that will make the experience all the more special.
Where is the Concorde Luxury Resort?
Concorde Luxury Resort is located on the stunning beachfront of Bafra, en route to the renowned Karpaz Peninsula in Famagusta to the northeast of Northern Cyprus.
On the seafront with private sandy beach
30 minutes drive from central Famagusta
45 minutes transfer from Ercan airport
Concorde Luxury Resort
Bafra