Cratos Premium Hotel
Kyrenia
Kyrenia
Modern Seafront Luxury Hotel in Kyrenia
Luxury
Five star luxury with pampering spa!
The Cratos Hotel in Kyrenia is all about the wow factor.  For those seeking glitz and glamour, look no further than this swanky seafront resort that dazzles its guests with VIP treatment, shining décor and a wealth of indulgent facilities from the moment they arrive.
Spoil yourself with a stay at the newly built Cratos Premium Hotel, the ultimate place to stay in North Cyprus. The prime seafront position is perfect for sunbathing, swimming and watersports from the private beach. Enjoy sumptuous suites, delicious dining and relaxing spa treatments.
FREE WiFi in all rooms & public areas
Why Holiday Makers Love it
Wonderful Staff
Amazing Seafront Facilities
International Gourmet Cuisine
Sea Views
Prestigious Atmosphere
Luxury Spa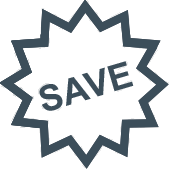 Special Offers available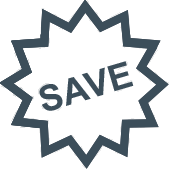 Special Offers available
From the moment you arrive at the five star Cratos Premium Hotel, you know you are in good hands! Pampering service, beautiful seafront accommodation and a host of facilities will deliver a fabulous North Cyprus experience without even leaving the hotel grounds!
Majestically situated right on the seafront in beautiful gardens, the Cratos Premium Hotel enjoys the best views. Luxuriously appointed rooms are available from standard rooms to king suites with Jacuzzis, so there's something to suit every budget and occasion.
Enviable located right on the seafront, the Cratos Premium Hotel has a fabulous 1350m² pool where guests can cool off while enjoying views of the sea and bustling port nearby. Relax on plump cushioned sun loungers on the terraces, try out some exciting new watersports or dive into the clear sea from the jetty.
If you prefer to chill out, a visit to the hotel spa will deliver a range of relaxing treatments, from massages and authentic Turkish baths to the latest health and beauty treatments. Dining is another treat for guests staying at this fabulous resort. terraces and a jetty, from which guests can swim in the sea, with exciting water sports available in high season. To experience their real creature comforts visit the stylishly designed spa, that promotes a wide range of latest health and beauty treatments.  This glamorous retreat provides an excellent balance of quality, style, relaxation and pleasure.
Cyprus Premier Experts Recommend
Guests visiting North Cyprus will find there are many wonderful sites and archaeological treasures to explore as part of their holiday. Some must-see attractions include:
The Buffavento Castle which has breathtaking views.  It is reached via a steep path so wear comfortable shoes and take a bottle of water. It is the highest of Kyrenia's trio of castles and has a rich history that dates back for many centuries.
The Bellapais Abbey is just a 210-minute drive away in the foothills of the Five Finger Mountains. Once the home of British writer, Lawrence Durrell (1912-1990), it is close to the pretty village of Bellapais which has many traditional restaurants, cafes and shops along its quaint streets. The village frequently hosts cultural festivals which are a must-see.
The Kyrenia Mountains also offer miles of scenic hiking trails through wild flower meadows as part of the untouched, natural beauty of the island.
Kyrenia Harbour is about 15 minutes' drive away, home of historic museums and Kyrenia Castle as well as a large variety of shops, cafes and bars. Browse for souvenirs and enjoy refreshments in a rooftop café overlooking the harbour.
Those wanting to explore North Cyprus on horseback can enquire with the hotel reception about the nearby stables in Çatalköy. Riding is a great way to explore the scenic Kyrenia mountain range and some of the historical sites with a guide! 
Finally, see baby turtles at the local hatchery on Alagadi Beach, east of Kyrenia. Guests can see new-born hatchlings and may be able to release them into the sea!
Please note that some services and amenities may not be available during low season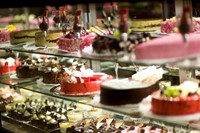 Board Basis Options
Full Board Plus: (1 Nov - 30 Apr) Buffet breakfast, lunch & dinner, with unlimited soft and alcoholic local drinks to accompany meals served in the Eden Main Restaurant.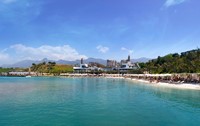 Port Cratos Beach
The hotel is right on the waterfront overlooking Port Cratos Beach with its beautiful soft sand. Jetties are prime for diving in and watersports are available in the clear lagoon waters.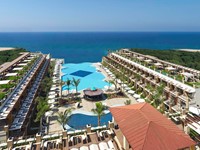 Two Pools for all Seasons!
The outdoor pool at Cratos Premium Hotel is huge (1350m²) so there's plenty of space for everyone to swim and cool off. Surrounded by a sun terrace with comfy sun loungers, the pool overlooks the scenic waterfront and is perfect for watching local activity in the nearby port from the elevated position. On cooler days, guests can still swim and enjoy the water at the heated indoor pool. There is also a separate children's pool for youngsters to play safely while parent relax.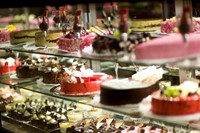 Choice of Exquisite Dining
The Eden Restaurants offers mouth-watering buffets prepared and presented by a team of chefs. The Sunday Brunches are particularly popular! The Cratos Premium Hotel also offers a range of bars to suit every ambience. The Terrace Bar and Pool Bar allow guests to enjoy tropical cocktails and soft drinks by the pool. It's the perfect place for drinks at sunset. For romantic after-dinner drinks, try the Exotica Bar or sample the local beers at the friendly North Shield pub and sports bar in the Lobby. The Bowling Bar is also great place to enjoy an evening making new friends. For special occasions, guests can hire the Coco Bongo and host their own event. This private island-style bar includes elegant lounge chairs overlooking the beach. The Segafredo Café is a haven for coffee drinkers, serving the perfect Italian espresso drinks. If you want a snack to tide you over until dinner. the Susa Patisserie offers sweet pastries, ice cream, cakes and chocolate until midnight. They will even create a customised cake for those celebrating a special occasion. Beyond the hotel, Port Cratos offers excellent gourmet seafood restaurants by the sea. The Mey Blue fish restaurant is an island favourite, but for a more authentic Turkish menu with kebabs and char-grilled meats try the popular Ocakbasi Restaurant on the jetty or Döner-ci . La Matta has beautiful beach views for diners enjoying their amazing Italian cuisine. For something different, the Golden Cage is a local Lebanese and Cypriot restaurant and China Rouge is famous for its delicious oriental cuisine including sushi. Whatever your appetite craves, Cratos has a plethora of international restaurants to suit every taste!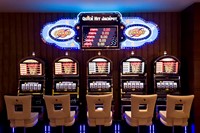 Party Time at Port Cratos!
Port Cratos has plenty of lively nightlife right on the doorstep of the Cratos Premium Hotel. Cage is an Ibiza-style club with great music for partying until the small hours. It attracts famous international acts and open-air concerts with live music for those who want to party the night away. If you're feeling lucky, head to the Cratos Casino in the hotel, which is a popular place for locals and holidaymakers to enjoy roulette, poker and slot machines.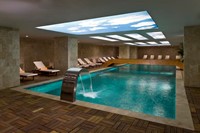 Relax and Rejuvenate
The luxurious Cratos Premium Hotel has a Balinese-style Spa offering specialist massages including Indian, Thai, Shiatsu, anti-cellulite and hot stone massages. The hotel also has a traditional hammam (Turkish bath), sauna, Jacuzzi and steam room. Professional beauticians offers some of the best spa treatments in North Cyprus. The Fitness Centre in the hotel has the latest state-of-the-art equipment with personal trainers available. Guests can also keep fit with classes in yoga, Pilates and aerobics. The private spa area can also be booked for special events such as hen parties. Guests can have exclusive use of the sauna, Turkish bath, steam bath, massage room with telephone and TV.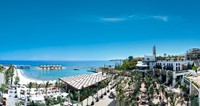 Family-Friendly Facilities!
Families staying at the Cratos Premium Hotel will appreciate the Children's Club with supervised activities for all ages. The hotel also offers babysitting services for youngsters aged 0-12 so parents can enjoy a night out. Older children will have fun in the Huckleberry Games Room which offers bowling, billiards and darts as well as Play Station tournaments. Some activities incur a charge.
Where is the Cratos Premium Hotel?
The Cratos Premium Hotel is located around 4 miles east of Kyrenia, on the seafront near the popular and vibrant village of Catalkoy.
On the seafront with private sandy beach
4 miles east of Kyrenia town
50 minutes transfer from Ercan airport
1 hour 20 minutes transfer from Larnaca airport
Cratos Premium Hotel
Kyrenia