7 Nights

Mon, 10 May 21

Mon, 17 May 21
Elexus Resort and Spa (Kyrenia)
Hotel Details
Customise Your Holiday
Summary
Final Step
Elexus Resort and Spa
Kyrenia
Kyrenia
Beachfront Perfection in North Cyprus
Luxury
Family
Beach
Exclusive luxury hotel with a host of amenities!
With its glitzy ambience and stunning facilities, the Elexus Hotel offers an exclusive hotel experience in North Cyprus. The stunning Zoya Spa, gourmet restaurants and state-of-the-art facilities make this a top choice for those who appreciate the finer things in life. Set in Kyrenia and surrounded by stunning natural beauty, The Elexus Hotel will meet and exceed all expectations.
FREE WiFi in all rooms & public areas
Why Holiday Makers Love it
Great For Both Couples & Families
Amazing Kids Facilities, Incl. Aqua Park
Brand New Spa
Outstanding Sea Views
Delicious Cuisine & Evening Meal Buffet
Great Animation Team
Luxurious Accommodation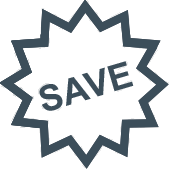 Special Offers available
Duration:
:
This offer can be combined with other offers.
The 5* Elexus Hotel wows its guests with its stunning beachfront location, stylish rooms, exquisite decor and top-notch service. With six pools, a children's club, Aqua park, spa, casino and nightly entertainment, it has everything you could wish for in a luxury resort in North Cyprus.
Located right on the golden sandy beach, the Elexus Hotel is surrounded by beautiful views. This modern hotel also boasts exceptional amenities to suit both couples and families of all ages. Take your pick from six pools and an Aqua Park with water slides and more, it's the perfect place to relax in the sun. Those looking for a relaxing holiday will find the spa offers a wide range of beauty treatments in the hands of experienced therapists. Rooms offer every comfort in the deluxe and family rooms. After dark, the hotel puts on an extravagant display of local entertainment with local dance shows, live music events and a casinos. For families, the Alexis Wonderland will ensure younger guests have a truly unforgettable holiday. 
Beach lovers will appreciate the location of the Elexus Hotel, right on the golden sandy beach. The exclusive Beach Club provides ample sun loungers and watersports for guests to enjoy from parasailing to pedaloes.
Cyprus Premier Experts Recommend
If you can tear yourself away from all that the Elexus Hotel has to offer, North Cyprus has plenty of shopping and sightseeing opportunities. The best places for shopping are around Kyrenia harbour, Nicosia and Famagusta. These areas are also rich in ancient historical sites. Kyrenia Castle, the walled city of Nicosia and the ancient ruins of Salamis, Famagusta are all top attractions in North Cyprus.
Closer to the Elexus Hotel, the historical buildings around Esentepe are worth a visit, particularly the 12th century domed Antiphonitis Church. Once a monastery, this church was a famous Byzantine monument tucked away in the Kyrenia hills. 
Nearby Alagadi Beach is a popular place for seeing nesting loggerhead and It's a fascinating natural experience. Ask the hotel Tour Manager about the best time to visit.
Esentepe is a top area for golf and horse riding. You hotel concierge will help you book a horseback ride with a professional guide into the mountains from the Catalkoy Riding Club.  Golfers will appreciate the chance to tee off in the sunshine at the Korineum Golf Club, the first 18 hole international green golf in Northern Cyprus! Their scenic course is the beautiful area of Esentepe has breathtaking views of the Mediterranean coastline, and provides some interesting challenges for golfers of all handicaps.
Please note that some services and amenities may not be available during low season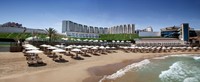 Beautiful Sun and Sand
The extensive beach area is right on the doorstep of the Elexus Hotel. It includes an adult only exclusive Beach Club, which ensures a relaxing time with everything guests could want for a relaxing day on the beach. This chic Miami-style amenity includes luxurious sun loungers, day beds, modern sofa loungers and shady private kabanas right at the water's edge. The beach is also the location for beach parties with top DJs and is a highlight of any visit.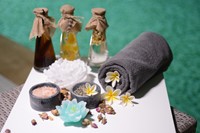 Ultimate Bliss
The Zoya Spa is a haven of relaxation and tranquillity for guests staying at the Elexus Hotel. The spacious spa has two inviting indoor pools for relaxing or swimming after a workout in the fully equipped Fitness Centre. Book a series of spa treatments from head to toe and experience the restorative power of a massage in this luxurious spa.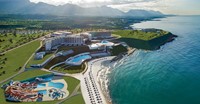 Slides of fun!
Visitors of all ages will enjoy cooling off at the Aqua Park at the Elexus Hotel. The area has plenty of colourful water slides and games providing hours of fun for all ages. The Elexus Hotel takes pride in having one of the most amazing Aqua Parks on the island, with a variety of slides.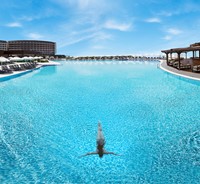 Choose from 6 Gorgeous Pools
The Elexus Hotel boasts a choice of six swimming pools; two heated indoor pools and four fantastic outdoor pools including the Aqua Park facilities. The ultimate way to cool off is in the infinity edge pool which has far-reaching sea and coastal views.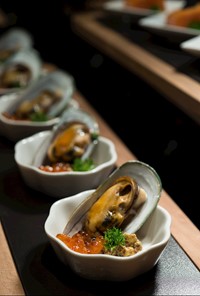 International Cuisine
The Elexus Hotel has four wonderful restaurants with a team of some of the best chefs on the island. Take your pick from: • Meyan Kebab which specialises in authentic Turkish cuisine. • The Myoga Far East restaurant offering more exotic cuisine. • The Kaluga fish restaurant serving the freshest fish and seafood. • Bistro 24, an informal dining experience with snacks and drinks at any time of the day. It has stunning views across the terrace to the sea. Guests can also enjoy a range of complimentary dining experiences at 8 show kitchens, world cuisine days, healthy buffets and afternoon tea. Children have their favourite foods with complimentary buffet meals, cakes, ice cream and soft drinks within their mini club area.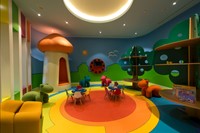 Family-friendly Elexus Hotel!
• Elexus Mini Club (3 - 12 years) • Games room • TV Lounge • Dance room • Theatre room • Sleeping rooms • Bilingual teachers and guides • Alexis Wonderland • Lilliput play homes • Laboratory (educational and fun activities) • Jungle zone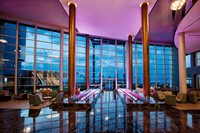 Shows Galore!
The Elexus Hotel prides itself on providing a host of top live entertainment to keep their guests well entertained during their stay. Concerts are hosted by major Turkish artists and guests can also join in the popular dance shows including the Samba Brazil Dance Show, Walk of Stars Dance Show and Dolls by Rapid Dance Show. There is a Vegas-style casino and endless supervised activities for children. The hotel's Mia Beach Club also hosts pool party nights with International DJs making the Elexus Hotel one of the most popular luxury resorts in Kyrenia.
Where is the Elexus Resort and Spa?
The Elexus Hotel Resort & Spa is situated around 10 miles east of Kyrenia, near the hillside village of Esentepe. The hotel is situated on the seafront, and enjoys a quiet spot in a stunning, secluded area.
On the seafront with private sandy beach
10 miles from Kyrenia town
Shuttle Service to Kyrenia Town (charges apply)
40 minutes transfer from Ercan airport
1 hour 30 minutes transfer from Larnaca airport
Elexus Resort and Spa
Kyrenia