7 Nights

Sat, 25 Sep 21

Sat, 02 Oct 21
Grand Pasha Hotel (Kyrenia)
Hotel Details
Customise Your Holiday
Summary
Final Step
Grand Pasha Hotel
Kyrenia
Kyrenia
Modern luxury hotel with casino and spa in the heart of Kyrenia
Luxury
Stunning sea and mountain views from this superb hotel in Kyrenia Harbour!
The Grand Pasha Hotel is the ultimate 5 star boutique hotel, casino & spa that has all the comforts you would expect from a luxury hotel. Set in the heart of Kyrenia, it combines Mediterranean and scenic Five Finger Mountain views from its enviable position in the town.
FREE WiFi in all rooms & public areas
Why Holiday Makers Love it
Opulent Decor
Luxury Spa & Gym
Warm & Friendly Staff
Outstanding Customer Service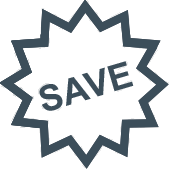 Special Offers available
Duration:
:
This offer can be combined with other offers.
The Grand Pasha Hotel offers the ultimate in pampering and luxury that you would expect from any top five star hotel. With the excellent amenities to the opulent décor, this hotel sets out to impress!
From spacious standard rooms to upscale corner suites, this hotel offers plush furnishings and marble bathrooms to ensure a comfortable stay. The Grand Deluxe Spa offers a sensational experience of sublime beauty treatments to relax and rejuvenate. When it comes to dining, the hotel truly excels with gourmet cuisine prepared by a team of chefs using the freshest ingredients.
Conveniently located in the heart of Kyrenia, this stunning luxury hotel is just 150 metres from the waterfront. It occupies a prime spot, surrounded by delightful cafés, restaurants, shops and bars in this lively town. With its extensive facilities, the Grand Pasha Hotel is ideal for holidays in all seasons. As well as having arguably the most sophisticated spa in North Cyprus, it also boasts a fabulous rooftop bar with breath-taking views. It regularly hosts concerts, conferences and events in the Grand Ballroom and is widely recognised as a top luxury hotel on the island.      
Cyprus Premier Experts Recommend
Just a short distance from the Grand Pasha Hotel is Kyrenia Harbour, home to the historic castle and offering many delightful boat rides along the scenic coastline. The famous Kyrenia Castle is well worth visiting, along with the nearby Shipwreck Museum and the fascinating Icon Museum. Located in the former Greek Orthodox Arkhangelos Church, this museum is the perfect choice for those who enjoy art and history. Exhibits of these religious icons are on three levels and date back to the 17th Century. Opposite the Icon Museum are the remains of Byzantine catacombs, currently with a restaurant situated on top! Around 70 of these tombs still exist in Kyrenia, although most have been lost to development.
The nearest public beach to the Grand Pasha Hotel is Diana Beach, about 5 minutes' drive away and east of Kyrenia. The small cove has sand and some rocks. There is a modest seasonal entrance fee and you can rent sun loungers, jet skis and other watersports equipment. The small beach restaurant provides snacks and drinks. Other nearby beaches to visit include Catalkoy Beach and Alagadi Beach, slightly further away. The private beach of Vuni Palace Hotel is a 2 minute drive from the Grand Pasha Hotel and makes a perfect day on the beach for those who don't mind paying for premium facilities.
Please note that some services and amenities may not be available during low season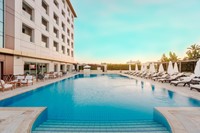 Choice of pools!
There are plenty of places to exercise and cool off at the Grand Pasha Hotel. The pristine outdoor pool has a shallow children's area and is surrounded by plump cushioned sun loungers. The nearby pool bar serves cool drinks night and day. The spa has its own heated indoor pool where guests can relax on comfortable day beds whatever the season.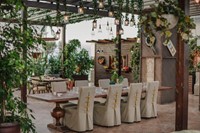 Five star dining at the Grand Pasha Hotel
The Grand Pasha Hotel is home to two gourmet à la carte restaurants: Harissa and Vrisi. Both offer a menu of outstanding Mediterranean and international cuisine, all prepared by specialist chefs. The Harissa boasts an elegant upmarket dining experience while the Vrisi dining experience is similarly splendid beneath glittering chandeliers. The Teras Ocakbasi offers pleasant al fresco dining with mountain vistas. For snacks, drinks and socialising, the Irish Bar has all your favourite beers, wine and spirits. The Cielo Lounge Bar comes into its own after dark with stunning views of the city lights from the rooftop terrace.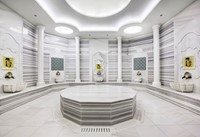 Relaxation heaven!
The Grand Deluxe Spa is one of the best in Kyrenia, with trained staff offering a range of Oriental treatments, beauty therapies and customised massages in a tranquil atmosphere. The spa has seven luxury treatment rooms, swimming pool, Turkish bath, steam room, sauna, ice fall, relaxation area and a fully equipped fitness centre. Trained staff are on hand to advise and assist or perhaps devise a bespoke training routine for you.
Live entertainment beneath the stars!
The Grand Pasha Hotel regularly hosts live concerts for guests to enjoy. On other nights, guests can relax in one of the stylish bars enjoying drinks and socialising.
Where is the Grand Pasha Hotel?
The luxury Grand Pasha Hotel is ideally situated in Kyrenia town centre, just 150 metres from the sea, and within easy access of the historical sites, shops, restaurants and bars.
5 minutes drive to the nearest beach (Diana Beach)
10 minutes drive from the Kyrenia town
40 minutes transfer from Ercan airport
1 hour 40 minutes transfer from Larnaca airport
Grand Pasha Hotel
Kyrenia