7 Nights

Fri, 23 Apr 21

Fri, 30 Apr 21
Kaya Artemis Resort Hotel (Bafra)
Hotel Details
Customise Your Holiday
Summary
Final Step
Kaya Artemis Resort Hotel
Bafra
Bafra
Magnificent Luxury Hotel replicating the Ancient Temple of Artemis
ULTRA ALL INCLUSIVE
Family
Luxury
Beach
A unique resort blending ancient and modern
Those looking for a hotel in North Cyprus that is out of the ordinary will appreciate the splendid Kaya Artemis Resort and Casino. Built in the style of the historic Temple of Artemis, this huge hotel and conference centre offers magnificent beaches, restaurants and bars in a location worthy of a goddess! Modelled on the historic temple, the Kaya Artemis Resort and Casino is where the ancient meets the 21st century with state-of-the-art facilities, glass lifts, beautiful accommodation and opulent facilities. Set in unspoilt natural surroundings, the hotel includes a casino and heavenly spa and wellness centre making it the ultimate choice for those searching for the extraordinary in North Cyprus.
FREE WiFi in all rooms & public areas
Why Holiday Makers Love it
Something for Everyone
Located on an Unspoilt Sandy Beach
Fantastic Aqua Park
Friendly & Hospitable Staff
Sensational Sea Views
Choice of Bungalow or Hotel Room
Delicious Breakfast & Evening Meal Spread
Great Animation Team & Entertainment Options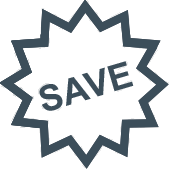 Special Offers available
Duration:
:
This offer can be combined with other offers.
The unique Hotel Artemis Resort and Casino is the largest luxury hotel on the island with 739 rooms and fabulous facilities set majestically overlooking a private sandy beach. It's a dream destination for those wanting to enjoy sun, sand and sea with plenty of activities for couples and families, both night and day.
Set in a scenic coastal location, the Kaya Artemis Resort and Casino is an unforgettable resort with buildings styled like the ancient temple at Ephesus, complete with columns and statues. Inside, each ultra-modern room and suite has sumptuous décor, comfortable high-end furnishings and ample space. With its beachfront location and stunning landscapes, the Kaya Artemis Resort and Casino delivers a totally five star experience to all its guests.
Cyprus Premier Experts Recommend
The Kaya Artemis Resort and Casino is the perfect place for relaxing and enjoying a break in the North Cyprus sunshine. However, exploring the area's highlights will make every visit even more memorable..
Famagusta is a popular place for souvenir shopping. Enjoy mingling with the cosmopolitan crowd or people-watching while enjoying a Turkish coffee at a local bar. The ancient walls of the Old City date back to mediaeval times – a reminder of the ancient history of this area. Other highlights include Othello's Tower, the Namik Kemal Dungeon and the Gothic-style St Nicholas Cathedral, the largest medieval building in Famagusta and now used as the Lala Mustafa Pasha Mosque. 
The Karpas Peninsula is a delightful area for hikes and scenic drives. It is also the location of The Golden Beach, the longest sandy beach in Cyprus which is a haven for wildlife and nesting turtles. The chance to see the eggs hatch as part of a tour is an unforgettable sight.
Other interesting cultural and historical places in North Cyprus include traditional villages such as Buyukkonuk, Bogaz and Kumyali. They preserve a traditional way of life with fishing and cultural festivals.
Please note that some services and amenities may not be available during low season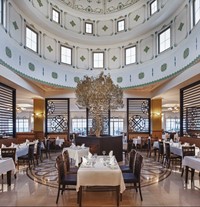 Board Basis Options
Ultra All Inclusive: • Buffet breakfast, lunch & dinner, with unlimited local alcoholic and non-alcoholic drinks to accompany meals.• Drinks & snacks are served at selected times from the Lobby Patisserie, Festa Pool Bar, Aqua Beach Bar and the Food Court.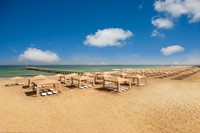 Private Sandy Beach
One of the top assets in the crown of the Kaya Artemis Resort and Casino is the beautiful sandy beach on which it stands. The clear warm waters of the Mediterranean Sea, makes this an idyllic place for beach lovers to relax. Guests can use the shady beach cabanas with plump-cushioned day beds behind misty white veils that blow in the breeze. Everything you needs, from towels and lounge chairs to showers and changing rooms are on hand for guests' total comfort.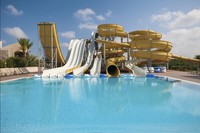 Cool fun!
One of the amenities at the 5* Kaya Artemis Resort and Casino is the amazing Aqua Park with its wet rides and colourful slides. Younger children can enjoy the "Tropical Paradise' area which has mini-sized slides, water tippers and jets for them to play and have fun.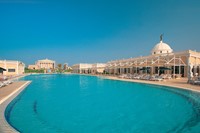 A Choice Pools to Choose From:
The outdoor pool area is an important part of any stay at this luxury resort. The two outdoor pools are particularly impressive with stone terracing and a backdrop of scenic natural beauty. In addition, guests can make use of the two children's pools and the two indoor pools for exercising or relaxing. Check out the sensational special sound and light pool too!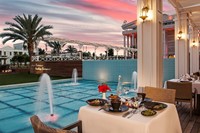 Gourmet Dining!
Guest can enjoy a series of feasts prepared by the hotel master chefs as part of their luxury holiday in North Cyprus. There are several restaurants and bars to choose from: The Agora Restaurant, Sirius A-la-Carte and Meyhane (Tavern) A-la-Carte Restaurant which each offer their own speciality dining experiences. , whilst enjoying the grand atmosphere at The Kaya Artemis Resort. The Agora Restaurants is the main dining area with lavish buffet meals in an opulent setting. The Thalia à la carte restaurant offers fresh seafood, Cypriot and Middle Eastern cuisine and diners can sit indoors or dine al fresco on the terrace. The Sirius à la carte Restaurant is located in the casino. Guests are required to book ahead and meals are served until late. The Food Court is an all-day snack restaurant where you can enjoy tasty refreshments throughout the day and night-time buffet from 1am to 3am! If all this is not enough, the Lobby Patisserie offers some delicious sweet treats. There are several attractive bars including: Sparta Lobby Bar, Aqua Bar, Daphe Beach Bar, Festa Pool Bar as well as a modern Food Court and Nargile Bar (Hookah Bar). The spa includes a vitamin bar with healthy smoothies and treats. At night, the Temple Night Club bar is open until 3am.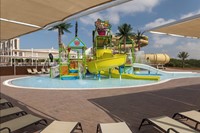 A world of mini adventures!
• Kids Club with supervised activities and organised fun • Animation shows • Sports activities and games at the supervised Pandora Mini Club (ages 4 – 12) • Mini Disco • Tropical Paradise Aqua Park • Agora indoor children's pool • Children's playground • Games Room
All Night Entertainment!
The Kayak Artemis Resort and Casino really pulls out the stops with nightly entertainment including live music, Gala nights, Motto Nights and Menu-Shows in the Agora Restaurant. The atmospheric amphitheatre can accommodate up to 1200 people. It hosts regular international shows including dance shows, cabarets, competitions and amusing displays. The Convention Centre is also a top venue for live concerts by famous singers and bands. If you want to stay fit and active, the hotel offers morning gymnastics classes on the beach, step aerobics classes and fun games at the pool. The Temple Beach Club has beach parties from 4pm daily and dance music goes on until 3am. For those who enjoy a flutter, the glittering Las Vegas-style casino is also a popular option for having some fun and perhaps enjoying a win.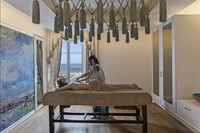 Head to Toe Pampering
The decadent Spa is another highlight of the resort and ensures that every guest feels totally pampered and relaxed. Book one of their professional massages or beauty therapies and feel rejuvenated from head to toe. The spa has a choice of relaxing areas including a sound and light pool, Turkish bath (hammam), sauna and steam room.
Where is the Kaya Artemis Resort Hotel?
The Kaya Artemis Resort and Casino is situated nearby the small village of Bafra, which is around 30 minutes drive from Famagusta. It enjoys a prime beach-front location just 20 metres from the Mediterranean Sea. This hotel is ideally situated for exploring the Karpaz Peninsula.
On the seafront with private sandy beach
Shuttle Service to Famagusta Town (charges apply)
55 minute drive from Famagusta town centre
40 minutes transfer time from Ercan airport
Kaya Artemis Resort Hotel
Bafra