7 Nights

Mon, 10 May 21

Mon, 17 May 21
Kemerli Konak Boutique Hotel (Kyrenia)
Hotel Details
Customise Your Holiday
Summary
Final Step
Kemerli Konak Boutique Hotel
Kyrenia
Kyrenia
An Authentic Boutique Experience with a traditional feel
Luxury
A true Cypriot atmosphere with stunning views
A well-appointed, boutique, bijou hotel, neighbouring Kyrenia town centre and located in the much sought after and traditional village of Zeytinlik,. Surrounded by stunning views and olive trees, the Kemerli Konak Boutique Hotel emanates a mix of authentic culture and design throughout with its luxuriant, quaint, bespoke furnishings.
FREE WiFi in all rooms & public areas
Why Holiday Makers Love it
Amazing Breakfast Spread
Sea & Mountain Views
Authentic Structure
Culturally Pleasing
Modern & Classy Design
Special Touch in Each Room With Individual Name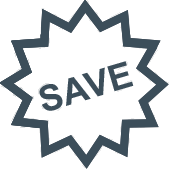 Special Offers available
Duration:
:
This offer can be combined with other offers.
Newly built, with exceptional attention to detail and a service that is second to none, the Kemerli Konak Boutique Hotel is a true work of art that has been designed with the most discerning of guest in mind.
This small but elegant, boutique hotel is set within an enviable location of the heart of Zeytinlik, a traditional Cypriot village adjacent to Kyrenia Town.  Its uniquely designed rooms are adorned with first class, traditional décor and bespoke furnishings of intricately patterned dark wooden dressers and authentic Cypriot beds.  Each room is individually named after its design adding a charming, personal touch to the hotel.
The exterior of the Hotel is also immaculate in its design with an authentic structure and intriguing stone work.  The pristine swimming pool and bar area offers a haven of tranquil privacy, while the ever popular, À la Carte Restaurant with its warm hospitality and night time floodlit views of St Hilarion castle, combine to ensure an unprecedented dining experience.
Cyprus Premier Experts Recommend
When it comes to sightseeing, you need look no further than the village of Zeytinlik itself. Formerly known as Templos, due to the Templar Knights rumoured to have lived there during the Middle Ages, Zeytinlik is one of the oldest villages in Cyprus. Further proof of the Templary Knights residence here in this region of natural beauty, can be found in the fact that Zeytinlik village leads to one of the three exits of St.Hilarion Castle. To this day, the majestic St. Hilarion Castle is still an attraction worth visiting. 
Situated a mere ten minute drive away and boasting breathtaking views due to its rocky crag location, St Hilarion castle, complete with its fascinating ruined turrets, towers and windows, remains to this day, one of the most complete in Kyrenia. Rumour has it, that the castle provided the inspiration for both the fairy-tale castle of King Ludwig in Bavaria and Walt Disney's Snow White. Should you be lucky enough to enjoy a holiday during Cyprus' glorious spring days, the surrounding landscape is adorned with a beautiful array of wild, exotic flowers.
Every amenity you could wish for, whether you're after shops, restaurants, cafes or bars, then Kyrenia town can provide all of the above in just a five minute drive. The historic harbour offers a more traditional variety with its breath-taking views, traditional boat rides and museums and can be located a mere 5 minutes further away.  When lunchtime comes around, the harbour offers a plethora of places with a view, in which to enjoy lunch. Carob is definitely one of our favourites.  Should you have hired a car, two further restaurants both situated in the mountains and well worth frequenting are Ezic and the Archway. A firm family favourite with holiday makers and the locals of Kyrenia alike, The Archway also provides a children's play area to entertain the children whilst you eat. A little further down the same main road, a state of the art gym called MPower as well as Kings, a fantastic bowling centre, can also be found.  Downstairs is an amusement area designed just for the children
Just 5 minutes east of Kyrenia, lies the small sandy beach named Diana. A nominal entrance fee is charged during the summer season, with the added option of renting sun loungers and jet skis available. Snacks and drinks are also obtainable during the summer months from the little restaurant. The beaches of Catalkoy and Alagadi, where, during season, it's possible to witness sea turtles hatching are popular choices if slightly further away. Should you happen to be spending a day on the harbour and fancy a quick dip, then The Dome Hotel, unique in being the only harbourside hotel boasting its own private beach is right at your feet (entrance fee required).  For further details and help with directions, simply ask your friendly hotel receptionist or knowledgeable Tour Rep.
Please note that some services and amenities may not be available during low season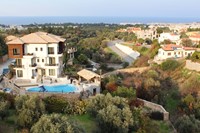 A secluded swim!
Offering seclusion and privacy, the swimming pool is situated on an elevated and pristine terrace, which has been designed with serenity in mind. Natural stone walls and other features give the pool a peaceful atmosphere in which to enjoy a tranquil swim. It also offers a separate children's section within the pool.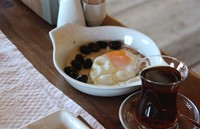 Traditional cuisine awaits!
The Archway A La Carte Restaurant with its beautiful views offers a daily breakfast service, and lunch and dinner can also be enjoyed here. Locally renowned for offering traditional quality cuisine, the Archway Restaurant has a traditional Cypriot atmosphere and quality traditional cuisine, enjoyed by both holidaymakers and discerning residents of Kyrenia.
Where is the Kemerli Konak Boutique Hotel?
Set amongst the northern hills of the Besparmak Mountains, the Kemerli Konak is located in the historical Kyrenian village of Zeytinlik. Situated just to the West of Kyrenia, the ancient Venetian harbour can easily be reached in 10 minutes by car.
10 minutes drive to the nearest sandy beach (FREE Shuttle Service)
10 minutes from Kyrenia town
Shuttle Service to Kyrenia Town (charges apply)
45 minutes transfer from Ercan airport
1 hour 30 minutes transfer from Larnaca airport
Kemerli Konak Boutique Hotel
Kyrenia