7 Nights

Mon, 10 May 21

Mon, 17 May 21
Korineum Golf and Beach Resort (Kyrenia)
Hotel Details
Customise Your Holiday
Summary
Final Step
Korineum Golf and Beach Resort
Kyrenia
Kyrenia
Luxury Golf, Beach and Spa Holidays in North Cyprus
Golf
Fabulous luxury golf holidays in the sun!
The Korineum Golf and Beach Resort is home to the first 18-hole championship golf course in North Cyprus. Designed by David Hemstock, a British golf course architect, the resort is set in a spectacular area of rolling hills near Kyrenia. This is the ultimate luxury resort for those combining a golfing holiday with sunshine, beach and spa.
FREE WiFi in all rooms & public areas
Why Holiday Makers Love it
18 Hole Championship Golf Course
Professional Golf Academy
Special Golf Offers And Events
Luxurious Accommodation
Amazing Buffets
Spectacular Nature Tracks
Wedding Packages Available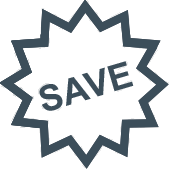 Special Offers available
Duration:
:
This offer can be combined with other offers.
Ideal for golf holidays all year round, the Korineum Golf and Beach Resort is a Trip Advisor Top Choice Award-Winning Resort with international appeal.
Enviably located in beautiful countryside with spectacular sea and mountain views, this luxury resort in North Cyprus is set in 65 hectares. It has its own championship golf course and has plenty to offer non-golfers too. Beautifully appointed rooms, a relaxing spa, first class restaurant, outdoor pool and private beach club are just some of the delights in store for guests. The resort also has four clay tennis courts and a fully-equipped fitness centre. It's the ideal destination for golfing holidays at any time of year.
Golf
This prestigious 6,232 metre, 72 par championship golf course has plenty of challenging bunkers and water hazards as well as magnificent coastal views. There are impressive practice facilities, driving range and golf pro lessons within the Golf and Tennis Academy.
Golfers can hire one of the 44 silent battery golf carts as well as golf clubs and other accessories available from the Golf Shop.
Tennis
The Korineum Golf and Beach Resort also boasts 4 clay tennis courts along with a professional UK tennis coach for lessons at the Tennis Academy. The courts are floodlit for cooler evening matches and there is a bar for refreshments. Guests can hire equipment including tennis racquets and ball machines.
Cyprus Premier Experts Recommend
Although golf is the main attraction, those wanting to see more of North Cyprus will enjoy a trip to Esentepe and Tatlisu. Known for their sandy beaches, they also offer great shopping, local restaurants and attractive sights. Esentepe is a great centre for horse riding and paragliding in the mountains.
Walkers will find an abundance of hiking trails in some of North Cyprus's unspoilt scenery.  The 12th century Antiphonitis Church, a noteworthy Byzantine monument in the Kyrenia Hills, is well worth a visit. Nature lovers will enjoy visiting Alagadi which is less than 4 miles away, where loggerhead and green turtles come ashore to lay their eggs. Tours include the opportunity to see the eggs hatch – an unforgettable experience!
Other noteworthy destinations to visit from the Korineum Golf and Beach Resort include Kyrenia harbour, Nicosia and Famagusta.  The impressive castles, the Bandabulya indoor market and Famagusta's famous Venetian City Walls all add to the pleasure of any holiday in this area.
Please note that some services and amenities may not be available during low season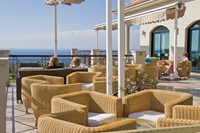 Exclusive Beach Club
This luxury beach resort has a beautiful 70-metre long stretch of private sandy beach and a courtesy shuttle transports guests to and fro as it is about one mile from the resort. Guests can relax on the beach or lawned area with sun loungers, umbrellas, showers, changing rooms, drinks and snacks all provided by the hotel beach club.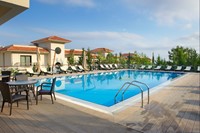 Pool
The beautiful pool at the Korineum Golf and Beach Resort is located in a stunning setting among the shady pine trees. Enjoy long cool drinks and snacks from the poolside bar. There is a separate shallow pool for children to splash and play in safety and there is a play area with swings and slides.
Bars & Restaurant
The Korineum Golf and Beach Resort has an impressive choice of restaurants and bars for guests to choose from. Breakfast and dinner is served buffet style in the elegant Carob Island Restaurant. Choose from a wide choice of fresh dishes or have your own options individually prepared at the hot cooking stations. Lunch can be enjoyed at The Valley Restaurant which has informal surroundings and breathtaking sea views. It offers a choice of international cuisine from the a la carte menu. More unusual choices are on offer at the Clubbers Bar and Lounge, which features a Fusion Menu of snacks and light fare. Sandals Pool Bar is open during the summer months and offers snacks and refreshments poolside during the day. Those who enjoy sports, pool, darts and bridge will feel right at home in the Loggerhead Sports Bar. In cooler months it even has a cosy log fire! Golfers can relax at the 19th hole where the Academy Shanks Bar offers a menu of drinks and tasty sandwiches. In addition to this, guests can look forward to the Traditional Cypriot Nights which feature Klefkito (slow roasted lamb) served on the beach. Sunday Brunches are also very popular and advanced booking is advisable.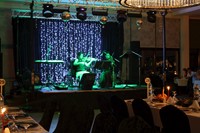 Cultural and Traditional Entertainment Nightly
The Korineum Golf and Beach Resort offers many special events including traditional Cyprus Nights with live music and Klefkito (lamb) evenings on the beach. Golf matches and friendly games of pool, darts and bridge can be enjoyed as guests mingle and socialise in the cosy Sports Bar. There is live music on Wednesdays and Saturdays, as well as Sunday Brunches on selected dates.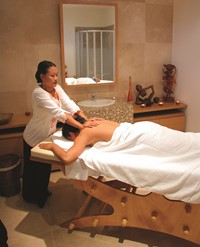 Spa and Wellness Centre
The tranquil Balinese Spa is a haven of relaxation with two massage rooms, a therapeutic whirlpool tub and a range of exotic spa treatments and massages. Professional therapists deliver the ultimate bliss with these rejuvenating experiences.
Where is the Korineum Golf and Beach Resort?
The Korineum Spa & Beach Resort is situated 16 miles east of Kyrenia, on the north-east of the island. The resort is surrounded by a picturesque countryside, and is less than 4 miles from Catalkoy Village.
Free Shuttle service to its own private beach (in high season)
16 miles east of Kyrenia town
40 minutes transfer from Ercan airport
1 hour 40 minutes transfer from Larnaca airport
Korineum Golf and Beach Resort
Kyrenia