7 Nights

Fri, 23 Apr 21

Fri, 30 Apr 21
Korineum Spa and Beach Resort (Kyrenia)
Hotel Details
Customise Your Holiday
Summary
Final Step
Korineum Spa and Beach Resort
Kyrenia
Kyrenia
Relaxing luxury resort in unspoilt surroundings with prestigious spa, private beach and golf course
Beach
Beautiful beach resort with pampering spa and a host of luxury amenities!
Set in 65 hectares of beautiful countryside with its own private sandy beach, the Korineum Spa and Beach Resort delivers a luxury relaxing holiday experience in a stunning location. Set between the sparkling blue Mediterranean Sea and the dramatic Five Finger Mountains, the upscale accommodation and hotel amenitites are surrounded by green vistas of umbrella pines, carob and olive trees that typify North Cyprus landscapes. With its own award-winning golf course, indulgent spa, stunning outdoor pool and a private beach club, this is a haven of relaxation for those who deserve the very best!
FREE WiFi in all rooms & public areas
Why Holiday Makers Love it
Private Sandy Beach
Exclusive Beach Club Amenities
Pampering Spa And Wellness Centre
Impressive 18 Hole Championship Golf Course
Five Star Accommodation
Alluring Swimming Pool
Wedding Packages Available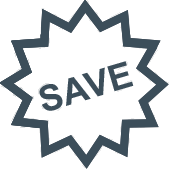 Special Offers available
Duration:
:
This offer can be combined with other offers.
Enjoying panoramic views, the Korineum Spa and Beach Resort is the place to find absolute tranquillity and relaxation in a luxurious ambience with a host of leisure amenitites and pampering spa treatments.  
The stunning setting of the Korineum Spa and Beach Resort is complemented by the first-class standards in comfort and luxury throughout the resort's accommodation and facilities. The 86 luxurious rooms and suites are tucked away in the shady pine forest, providing a sense of privacy and serenity. Enjoy spectacular views of the sea, mountains and golf course from your private balcony or French balcony. It's the perfect place to enjoy sunset views before heading out for a gourmet dinner and some night-time entertainment. Every room has ample space, upscale furnishings, tasteful décor, central heating and air-conditioning to ensure guests enjoy complete comfort during their stay at any time of the year.
The resort boasts a magnificent outdoor pool, fabulous spa for relaxing massages and beauty treatments and a private beach club. Those wanting to stay in shape can make use of the state-of-the-art fitness room, floodlit tennis courts and 18-hole championship golf course that make up the resort's unrivalled sports and leisure facilities.
Delicious cuisine is another essential part of any luxury holiday at the five star Korineum Spa and Beach Resort. Enjoy the international fusion menu in the elegant Carob Island Restaurant or dine al la carte at the Valley Restaurant. Both restaurants use fresh seasonal ingredients grown in the resort's gardens and orchards. The Sunday Brunch is highly recommended!
From fine cognac and cigars in the Clubbers Lounge to snacks and special dining events on the beach, dining at the Korineum Spa and Beach Resort is among the best in North Cyprus.
With enviable gourmet cuisine, country club service and luxury sports and spa amenitites in a stunning Mediterranean setting, this luxury resort has everything you need for a truly memorable holiday. It's the perfect place to relax in the sun and be treated like royalty!
Cyprus Premier recommendations
Located in Esentepe in North Cyprus, the Korineum Spa and Beach Resort is surrounded by beautiful sandy beaches, excellent local restaurants and stunning natural beauty. Guests will want to get out and explore this scenic area with its charming villages, mountain trails and historic attractions.
Alagadi Beach is a long, sandy beach just 5 miles from the hotel. It is famous as the nesting site for endangered loggerhead and green turtles. Trips are available from the hotel to watch the baby turtles hatch and make a dash for the sea, as it's a place where they come to nest each year. More details are available from your tour representative or hotel receptionist.
History lovers will want to see Esentepe's historical buildings, including the 12th century Antiphoniti Church with its dome, once the heart of an influential monastery, and a famous Byzantine monument in the Kyrenian hills.
As well as hiking, the area offers horse riding and paragliding.The Catalkoy Riding Club offers exciting rides in the Kyrenia Mountains led by professional staff. 
There are plenty of places to visit for shopping, dining and cultural sightseeing. Kyrenia Harbour, Nicosia and Famagusta all combine wonderful shopping with an abundance of historic museums and interesting sites. Kyrenia is known for its castle, churches and waterfront museums while Nicosia is the place to experience authentic Turkish Baths at "Buyuk Hamam" and haggle for bargains at the Bandabulya indoor market. Famagusta has many fascinating sites to see including its famous Venetian City Walls.
Please note that some services and amenities may not be available during low season
Exclusive Beach Club
The Korineum Spa and Beach Resort boasts a 70m stretch of private sandy beach with its own landscaped grass area and a pier. A courtesy shuttle service transports guests to and from the Beach Club where you will find everything you need, from sun loungers and parasols to beach towels and showers. The Beach Snack Bar ensures a non-stop service of cool drinks, snacks and tempting refreshments with stunning sea views. The excellent facilities include private changing cabins, toilets and outdoor showers to ensure guests have everything they need to relax, swim and chill out.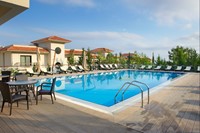 Attractive Pool Area
Cool off with a refreshing dip in the freshwater swimming pool or relax on a sun loungers in the wonderful landscape of scented pines. The main pool is next to a shallow children's pool where youngsters can safely splash and play all day. There is also a small play park with swings and slides, allowing them to run off their energy.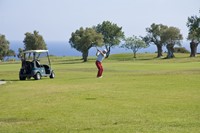 Championship golf course
The Korineum Golf and Beach Resort boasts a stunning setting with panoramic views for their dynamic 6,232 metre, 72 par course. With Golf Professionals at hand to assist both beginners and experienced golfers, all guests are assured a spot of fun! Their professional Golf Academy and international standard 18 hole golf course is the one and only of its kind in the country.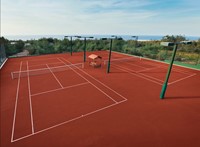 Improve your game!
Tennis players will love staying at the Korineum Spa and Beach Club as it has enviable tennis courts and an exclusive Tennis Academy! Their four clay tennis courts are floodlit for cooler play in the evening and are available free to hotel guests for up to two hours per day. The UK professional tennis coach is available to help players improve their game. Tennis players will love staying at the Korineum Spa and Beach Club as it has enviable tennis courts and an exclusive Tennis Academy! Their four clay tennis courts are floodlit for cooler play in the evening and are available free to hotel guests for up to two hours per day. The UK professional tennis coach is available to help players improve their game.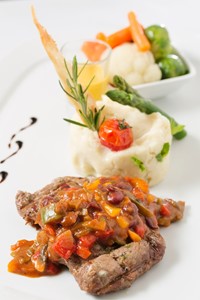 Gourmet cuisine at the Carob Island!
Gourmet dining at the Korineum Spa and Beach Resort is another outstanding benefit of your stay. Look forward to delicious breakfast and dinner buffets in the modern surroundings of the Carob Island Restaurant. Chefs prepare food to order at the hot cooking stations so guests can enjoy their favourite dishes individually cooked to perfection. A la carte international and local dishes are offered in the Valley Restaurant where diners are treated to superb sea views from their table. The Clubbers Bar and Lounge specialises in fusion cuisine with tasty options served in a cosy informal atmosphere at any time of year. During the summer season, the Beach Bar and Sandals Pool Bar serve a huge choice of cool drinks and snacks throughout the day either poolside or down on the beach. The Loggerhead Sports Bar offers traditional pub games with pool tables, darts and card tables in a relaxing lounge setting complete with cosy log fire for cooler evenings. It's a great place to socialise and make new friends over drinks and games. The Academy Shanks Bar is the "19th Hole" for golfers. Located within the Golf Academy, it serves a variety of hot and cold snacks, sandwiches and refreshments. In addition to all these dining options, the Korineum Spa and Beach Resort hosts traditional Cypriot Nights where guests can enjoy Kleftiko (slow roasted lamb) and other authentic Cypriot cuisine. The popular Sunday Brunch is another gourmet feast for guests to look forward to (booking is necessary).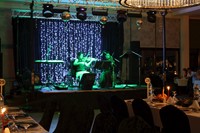 All types of fun!
The Korineum Spa and Beach Resorts has a full programme of seasonal events for their guests to enjoy, including themed Cyprus Nights, which include Kleftiko evenings on the beach and live music. The resort also organises challenging golf matches. Fun games of pool, darts and bridge can be enjoyed by everyone in the friendly Sports Bar. There is live music on Saturdays and Wednesdays in high season, as well as Sunday brunch on offer (seasonal).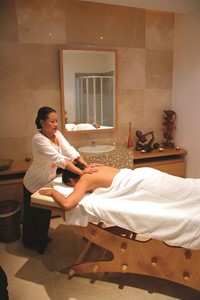 Pampering Balinese-style!
The Korineum Boutique Spa has a team of experienced beauticians, masseurs and therapists to enhance your relaxing stay. The calm atmosphere of this spa haven can be enjoyed in two massage rooms, jacuzzi, sauna and tranquil relaxation areas. Bali Spa packages and treatments are designed to deliver complete relaxation and well-being for body, mind and spirit. Take your pick from exotic Thai, Balinese and sports massages to facials and traditional beauty treatments to ensure you feel and look your very best!
Where is the Korineum Spa and Beach Resort?
The Korineum Spa and Beach Resort is around 4 miles from Catalkoy village on the north-east side of North Cyprus in beautiful countryside. The nearby Alagadi (Turtle) beach is also around 4 miles away and Kyrenia town centre is approximately 16 miles away.
Free Shuttle service to its own private beach (in high season)
16 miles east of Kyrenia town
40 minutes transfer from Ercan airport
1 hour 40 minutes transfer from Larnaca airport
Korineum Spa and Beach Resort
Kyrenia