7 Nights

Mon, 10 May 21

Mon, 17 May 21
Lord's Palace Hotel (Kyrenia)
Hotel Details
Customise Your Holiday
Summary
Final Step
Lord's Palace Hotel
Kyrenia
Kyrenia
Lord's Palace Hotel is the only five star lifestyle hotel in North Cyprus with a spa, sumptuous décor and British architectural style.
Luxury
Beach
The ultimate luxury beach resort holiday!
Located on Kyrenia's beachfront with a beautiful backdrop and views of the Besparmak Mountains, the Lord's Palace Hotel is a full complex of waterfront entertainment. Boasting stunning Mediterranean views from the rooftop pool, a Japanese style spa, shops, restaurants and entertainment venues, this newly completed hotel will exceed all expectations!
FREE WiFi in all rooms & public areas
Why Holiday Makers Love it
Ultimate Five Star Luxury
VIP Transfers
Waterfront Location
Private Sandy Beach
Mediterranean Views
Stylish Décor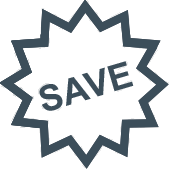 Special Offers available
Duration:
:
This offer can be combined with other offers.
The Lord's Palace Hotel earns every one of its five stars with its prime waterfront location, stunning design and elegant decor. This is the only lifestyle hotel in North Cyprus with all the personal touches of a boutique hotel yet amenities to outshine even the best luxury hotels.
Situated within easy strolling distance of Kyrenia's historic castle, harbours, shops and restaurants, The Lord's Palace Hotel has everything on the doorstep.
The British architectural style is complemented by upscale design and chic décor featuring soft shades of cream, brown and gold. Marble floors, glittering chandeliers and sumptuous furnishings can be found throughout this swanky palace. You'll feel yourself start to relax from the moment you arrive! Rooms, restaurants and amenities offer stunning sea and mountain views, not least from the rooftop pool. Spend time reading in the gardens, sunbathing by the pool, relaxing on the private sandy beach or being thoroughly pampered in the divine spa.
Bars and restaurants offer a fantastic choice of options that will take you from tasty buffet breakfasts and light snacks to sunset cocktails in the rooftop Sky Bar and gourmet à la carte dining in the Kömür Ocakbasi restaurant.
Cyprus Premier Experts Recommend
The Lord's Palace Hotel is right on the new marina in Kyrenia, in a quiet and beautiful spot with plenty of boats nearby. In keeping with the boating theme, there is an old Shipwreck Museum just a few minutes' stroll from the hotel. The historic old harbour is a short walk away and offers quaint cafes, bars, restaurants and shops. The imposing Kyrenia Castle is definitely worth a visit along with the less well-known Carob and Cyprus Life Museum. Housed in one of the old carob warehouses, this cultural attraction is packed with fascinating local history.
The nearby Kyrenia Amphitheatre often hosts fantastic musical and theatrical productions in the open air, so check with the hotel's concierge to see what's coming up to add to the enjoyment of your holiday. The Korineum Golf Course is only 20 minutes away by car or taxi.
Just five minutes' drive from Kyrenia is the picturesque mountain village of Bellapais with its scenic views and quaint little shops for browsing. The nearby Gothic Bellapais Monastery (also known as Bellapais Abbey) is well worth exploring and has a long and fabled history. A car rental will also provide access to St Hilarion Castle and Buffavento Castle, each less than 30 minutes scenic drive from the hotel. The Great Inn and Ledra Street Crossing capture the atmosphere of North Cyprus history and culture.
Apart from the exquisite restaurants at the Lord's Palace Hotel, you will find many tempting local restaurants and bars nearby offering authentic North Cyprus cuisine served in a delightful friendly atmosphere. One of the best is Niazi's Restaurant or try the Archway Restaurant which offers al fresco dining with stunning views.
Please note that some services and amenities may not be available during low season
Swim on top of the world!
The Lord's Palace Hotel boasts a stunning rooftop swimming pool. Swim a few lengths or relax and cool off while enjoying incredible views of Kyrenia and the many boats sailing in and out of the old harbour. Sink back on the designer sun loungers on the elegant glass-walled terrace and sip drinks from the bar for the ultimate sunbathing experience. In addition, there is a separate children's pool for youngsters and a beautiful indoor heated pool within the Spa & Wellness Centre.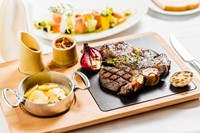 Delicious dining at every meal
At the Lord's Palace Hotel, highly skilled Master Chefs put their creative expertise together with the finest, freshest, locally sourced produce to offer guests the ultimate dining experience. Their breakfast buffet is fit for royalty, including dishes that are freshly cooked in front of you in their open kitchen. Komur Ocakbasi is an A 'la Carte Restaurant specialising in fish and steaks and is situated in their gorgeous, garden offering a romantic atmosphere. It also boasts an impressive worldwide wine selection. The Lord's Palace Hotel attracts master chefs who create daily feasts using the freshest fish, seafood and local ingredients. Start the day at the appetising breakfast buffet which has hot and cold dishes to suit every whim. Order up your own omelettes and dishes which are personally cooked to order in the open kitchen. Komur Ocakbasi is the hotel's gourmet à la carte restaurant specialising in fish and steaks. Set in the garden, it has a romantic atmosphere, comprehensive international wine menu and a cigar menu. For private celebrations, this restaurant has three private rooms to cater for small dinner parties for 8-10 guests. Spice Restaurant has a feature wall of colourful spices from around the world. It provides a buffet style breakfast and dinner with an open kitchen to add to the atmosphere. Park West Café is a place to find light refreshments, frothy coffee and snacks from the à la carte menu. Set right on the 470-metre long waterfront, the Beach Restaurant provides fast food snacks, cool refreshments and ice cream without you having to leave your beach chair. After dark, Sky Bar's stunningly designed roof top restaurant offers a full à la carte menu, with a mouth-watering array of dishes created by the hotels team of master chefs. With far-reaching views of Kyrenia and the Mediterranean, it offers a memorable dining experience. This restaurant also benefits from 3 secluded rooms , that can entertain 8-10 guests for private functions. Spice Restaurant is more artistically designed with its focal wall of 'spices from around the world'. It provides a buffet style breakfast and dinner with a fully visible kitchen to add to its quality dining experience. Park West Café is ideal for that well needed afternoon coffee or to try out an exciting new refreshment. There is also an A 'la Carte menu available. The Beach Restaurant, set on a stunning 470 metre Mediterranean shoreline serves delightful fast food snacks, cool refreshments and ice cream. Sky Bar's stunningly designed roof top restaurant offers a full a la carte menu, with a range of premium delicacies created by their Master Chefs. It offers an exceptional dining experience with breathtaking views of Kyrenia and the Mediterranean sea.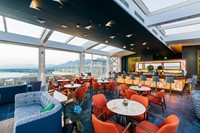 Dance the night away
During the Summer months, guests can enjoy live DJ entertainment three times per week in the Sky Bar as well as the opening of the hotel's seafront club Odyssey, which is one of the most popular clubs in Cyprus. Cosy corner seating is perfect for romantic cocktails before hitting the dance floor and partying away those hot summer nights.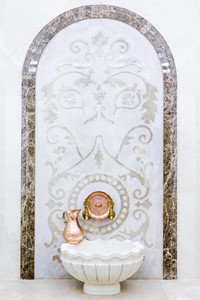 Total Relaxation and Pampering
Nothing beats a few hours of spa indulgences, massages and beauty therapies in the Lord's Palace Spa and Wellness Centre. This peaceful area includes a fully equipped fitness centre, hairdressing salon, indoor pool and a series of private treatment rooms. Tailor your own therapies and massages to your individual needs or submit to an authentic Turkish Hammam experience for the ultimate scrub!
Where is the Lord's Palace Hotel?
The Lords Palace Hotel is situated near to central Kyrenia, by the New Kyrenia Harbour. It is an ideal location for visiting Kyrenia and its many popular historical sites, shops, restaurants and bars.
On the seafront with private sandy beach
20 minutes walk from Kyrenia Town centre
50 minutes transfer from Ercan airport
1 hour 30 minutes transfer from Larnaca airport
Lord's Palace Hotel
Kyrenia