Merit Royal Hotel
Kyrenia
Kyrenia
The Merit Royal Hotel and Casino is an opulent adult-only beachfront retreat with luxury spa, casino, five star accommodation and facilities to match.
Adult Only Luxury Beach
Pampered luxury in glitzy surroundings!
The Merit Royal Hotel and Casino is an upscale resort which enjoys soft sea breezes and magnificent coastal views from its location overlooking a beautiful sandy cove. This luxurious Mediterranean resort in North Cyprus offers couples a romantic getaway, surrounded by gorgeous surroundings and fabulous amenities. A beautiful beach, gourmet dining and attentive service – what more could you wish for in the perfect luxury escape?
FREE WiFi in all rooms & public areas
Why Holiday Makers Love it
Peaceful Beachfront Location
Luxurious Interior Design
Wonderful Service & Hospitality
Eco-Friendly Green Hotel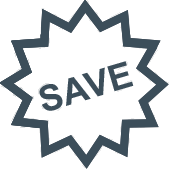 Special Offers available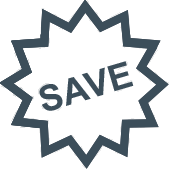 Special Offers available
The Merit Royal Hotel and Casino is a prestigious "green" resort right on the beautiful sandy beach with amazing views. Close to the charming village of Alsancak, it combines Cypriot culture with high-end amenities that will deliver a first-class holiday experience in North Cyprus.
The Merit Royal Hotel and Casino is situated near Zephyrus Cove, which takes its name from Zephyros, the god of wind according to Greek mythology. With a beautiful Mediterranean climate, warm turquoise water and a gorgeous sandy bay, this hotel is the perfect place for relaxing and working on your sun tan.
The hotel is stunningly appointed with beautiful architecture, luxurious fabrics and bespoke furnishings. From the moment you set foot in the lobby, you will be surrounded by smiling staff eager to make your holiday absolutely perfect.
Amenities include a beautifully designed outdoor pool and a spa-like indoor pool with superb views through the glass wall. The sumptuous spa offers a host of beauty treatments and massages to soothe away stress.
Being an adults-only hotel, the Merit Royal Hotel and Casino offers a range of romantic restaurants for enjoying exquisite gourmet dining in serene surroundings. Start the evening in one of the upscale bars with a sophisticated cocktail or chilled glass of wine. After dark, the popular casino attracts guests to try their luck at one of the gaming tables for an evening of fun.
Cyprus Premier Experts Recommend
The Merit Royal Hotel and Casino is enviably located right on the private sandy beach near the local village of Alsancak. The area occupies the site of the historic ruins of Lambousa, now a top historic attraction for tourists exploring some of the incredible historical sites around Kyrenia. 
The Peace and Freedom Open Air Museum is just a few minutes from the hotel and has a famous war memorial monument. Hikers will enjoy strolling along the Lapta Coastal Walk, a 1.5km seafront promenade in the neighbouring town about a 10 minute drive west of Kyrenia. It has superb sea views and refreshing breezes making it perfect for a sunset stroll.
Beyond Lambousa, you can discover many more amazing attractions in North Cyprus which include some fascinating structures, ancient rock tombs carved into the rock, Roman era fish tanks and the remains of the Roman harbour wall.
The Merit Royal Hotel and Casino offers a regular courtesy shuttle service for guests, connecting the hotel with Kyrenia via a 15-minute journey. This old harbour town has an abundance of shops, restaurants, bars and cafes as well as many interesting sites in the centre of Kyrenia. Stroll along the ancient harbour walls and admire the impressive Byzantine castle. 
If you want to explore independently, a hire car is the best way to visit some of the mountain villages such as Karaman, which offers picturesque photo ops. Visit the remarkable Bronze Age cemetery, with its ancient tombs and a human effigy symbolising the Goddess of Fertility. The hotel receptionists or your Cyprus Premier Representative will be happy to provide more information about places to visit from the Merit Royal Hotel and Casino.
Please note that some services and amenities may not be available during low season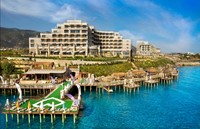 Private Cabanas for Lounging
Boasting its own private sandy beach, the Merit Royal Hotel and Casino enjoys tranquil and beautiful surroundings with the benefit of gentle sea breezes. The rocky coastline is said to be the birthplace of of the wind god Zephyros, according to Greek mythology. Hotel guests can enjoy the comfy sun loungers laid out along the beach as well as the private jetty. To escape the midday sun, book one of the elegant cabanas which offer a shady retreat with canvas sides that blow in the gentle breeze – the perfect place for dozing after lunch!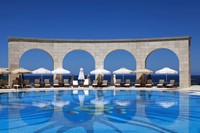 Splendid Swimming Pool!
The spacious outdoor swimming pool area features decorative stone arches and offers outstanding views from the infinity edge. Elegantly curved, it looks particularly romantic when floodlit after dark . On cooler days, the curved indoor pool offers a warm and soothing place to relax and swim. The intimate spa surroundings enhance the experience along with stunning sea views through the wall of glass.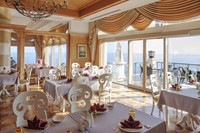 Regal Dining at Every Meal!
You definitely won't go hungry at the Merit Royal Hotel and Casino which offers lavish breakfast, lunch and dinner in the Royal Restaurant. Waterfront views and attentive waiters will ensure that everything is perfect as meals are individually prepared and customised to suit your personal requirements. The Bella Merit Restaurant offers a choice of authentic Italian favourites while the Blue Sea Restaurant boasts a sumptuous feast of Lebanese dishes. Those who enjoy Asian cuisine will enjoy the Dragon Restaurant with its Chinese cuisine and Eastern décor, while the Alatura Kebab Restaurant offers authentic Cypriot cuisine. There are several upscale bars with something for every mood and taste. Relax in the comfortable ambience of The Captain's Lounge or the Royal Bar. The Lobby Bar offers alcoholic and non-alcoholic drinks as well as hot beverages, traditional night soup, a splendid chocolate buffet and a variety of local spirits. In addition, the Royal Garden Bar offers hot and cold drinks in the summer season.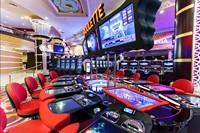 Casino fun!
Guests can enjoy a night out at a top casino without leaving the hotel. Try your luck at the gaming tables, spin the roulette wheel or enjoy the slot machines. Other live entertainment includes Turkish live concerts during peak season along with other special events.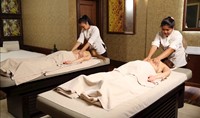 Royal Pampering!
Covering an impressive 3500 square metres, the Merit Royal Spa and Wellness Centre has a wide range of Far East and classic massages and beauty treatments to enjoy during your stay. The spa has its own sauna, steam room, salt room, indoor pool and a fun pool with Jacuzzi. The fitness centre is fully equipped with high-tech equipment and there is a healthy Spa Café. Professional and experienced therapists offer all types of treatments in their specialist rooms, ranging for hairdressing services to Ayurveda treatments in this haven of tranquility and rejuvenation.
Where is the Merit Royal Hotel?
The Merit Royal Hotel is located near to the village of Alsancak, in a beautiful coastal location overlooking the sea. Kyrenia is just 5 miles away and can be reached via the free shuttle bus from the hotel to the town centre, available at set times during the day.
On the seafront with private sandy beach
6 miles from Kyrenia town
FREE Shuttle Service to Kyrenia Town
45 minutes transfer from Ercan airport
1 hour 25 minutes transfer from Larnaca airport
Merit Royal Hotel
Kyrenia