Merit Royal Premium Hotel
Kyrenia
Kyrenia
Experience Ultimate Luxury with a Flawless Service
Luxury
Where hospitality comes first!
The Royal Premium is one of the newer and most magnificent additions to the Merit family of prestigious hotels in Northern Cyprus.  In a prime coastal location, it revels in panoramic views and incomparable 5* facilities, that never fail to impress the most sophisticated guests.
FREE WiFi in all rooms & public areas
Why Holiday Makers Love it
Plush & luxurious
Beachfront Location
Discreet Well-Trained Staff
Extremely welcoming & hospitable
Choice Of Amazing International Cuisine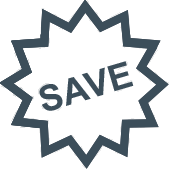 Special Offers available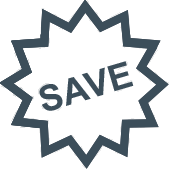 Special Offers available
The Merit Royal Premium Hotel is the eminent choice for refined families, corporate travellers, honeymooners and VIPs to relax by the sea and indulge in highly distinguished facilities and services.
Situated in a breathtaking position on a beautiful cove, Merit Royal Premium Hotel is an extravagant five-star luxury hotel located in the popular village of Alsancak, just five miles west of Kyrenia Town Centre and its historical sites. The hotel glories in incredible views over the Mediterranean Sea and the Five-Finger Mountains and swaggers in luxury and opulent amenities beyond guest expectations. Modern and sophisticated accommodation with extensive terraces enjoying picturesque views and an immaculate, personalised service add to the provision of the ultimate luxury holiday experience.
As well as catering for young families and children and boasting its own fantastic Kids Club and Kids pool. The Merit Royal, including its exceptional restaurants, majestic Spa, indoor pool and state of the art fitness centre.  Guests staying at The Merit Royal Premium also have access to the stunning Zephyrus Beach Cove of the neighbouring Merit Crystal Cove Hotel, one of the most beautiful bays of North Cyprus.
Cyprus Paradise Experts Recommend
The Merit Royal Premium is situated in Alsancak, a popular village built upon the ancient ruins of Lambousa "The Kingdom of Heritage" a striking archaeological attraction, now a convenient location, just 15 minutes away from the centre of town and ideal for visiting some of the incredible historical sights of Kyrenia.  The courtesy shuttle service from the hotel to Kyrenia allows you to easily visit the famous Byzantine castle in the picturesque harbour as well as enjoy the museums, shops, restaurants, cafes and bars….
If you enjoy walking, paths worth experiencing include the spectacular walk to the charming Malatya Waterfall, situated in a small mountain village just above Alsancak, a walk in the picturesque, charming village of Karaman, where you can also witness the fascinating Bronze Age Cemetery and its tombs, the old favorite Gecitkoy Reservoir walk, where crakes, eagles and herons have been spotted and the Lapta Coastal Walk, a newly built promenade boasting 1.5km of stunning sea views, which is becoming more and more popular!
If you've hired a car, also recommended is the beautiful mountain village of Karaman, which makes the perfect, picturesque stop off along the way to have a wander around a remarkable Bronze Age cemetery, discovering its tombs and witnessing a human effigy, symbolising the Goddess of Fertility.  The hotel's receptionists as well as your Tour Rep will be more than happy to assist you with directions and further enquiries.
Please note that some services and amenities may not be available during low season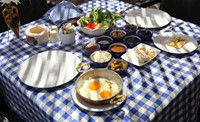 Eating & Drinking Board Basis
All Inclusive • Buffet breakfast, lunch & dinner with unlimited alcoholic and non-alcoholic drinks to accompany meals. • Soft Buffet at the Spa Cafe at selected times. • Late afternoon Tea Time in the Premium & Royal Lobby. • Alcoholic and non-alcoholic drinks are served at selected times from the Lobby all year round (The Hotel Management assign the beverage list). • Local Alcoholic and non-alcoholic drinks are served at selected times from the Pool & Beach Bars in summer (The Hotel Management assign the beverage list). • One minibar included a day • Late afternoon Tea Time in the lobby Additional Information • Extra Supplements and reservations are required for dinner at the A La Carte Restaurants: Dragon Restaurant, Blue Sea Restaurant, A La Turca, Bella Merit. • Room Service is chargeable. • Mini Bar is chargeable.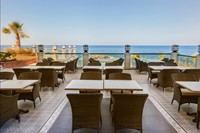 Enjoy a top notch beach bar!
Stroll through the fresh air of the hotel's immaculate gardens to arrive at a stunning private beach complete with luxurious sun loungers, pergolas, and hammocks. The spacious area of soft golden sand, shielded from winds and tides provides the perfect place to enjoy a fancy drink from the beach bar, a relaxing swim, sunbathe with a good book or to enjoy watching the kids paddle in its shallow and safe waters... if a spot of watersports takes your fancy, there's also plenty of exhilarating summer activities to add to your five star beach holiday fun!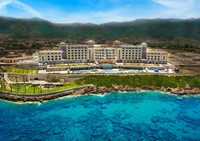 An amazingly soothing swim
Feel as though you are swimming into the deep blue Mediterranean from their massive, stylish infinity pool, which looks directly onto the sea. Beautifully complimented by small bridges and surrounded by a spacious terrace, it presents a stunning display by day and enchanting atmosphere lit up at night. Also offering stunning views out to the sea, the prestigious indoor pool also offers an amazingly soothing swim and revitalizing experience, with its spot lights sparkling onto the water and reflecting off huge landscape glass walls.
Roll the dice!
On occasion entertainment is provided for guests. Guests are also welcome to join the casino fun, where live Turkish concerts are held during peak season.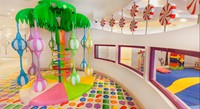 A Royal Adventure Kids Land
The Merit Royal Premium has an action packed kids club to provide the kids with endless entertainment! Aside from games consoles, art classes and a shaded outdoor play area, there is also a fun indoor play section that includes a ball pit, inflatables, sit-on toys, lovely rest areas for storytelling and relaxing as well as a mini football pitch.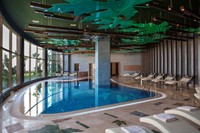 Holistic Indulgence
The 2 storey Royal Spa & Wellness Centre includes speciality rooms for exciting Far East and classic skin and body treatments, including balneo therapy, holistic indulgence and ritual spa treatments for couples. An extravagant sea view resting hall and a specially designed darkroom are also available for guests to completely chill out and enjoy. Their VIP spa suites boast hot tubs, saunas. Turkish baths, massage beds and resting corner. The Merit's fantastic Ab'i Hayat Rituals Lounge is home to a stunning indoor pool, stylish Turkish baths, sensational steam room, hot hub, sauna, shock shower, massage chambers, an amazing therapeutic salt chamber and their incredibly-powered jet showers.
Where is the Merit Royal Premium Hotel?
The Merit Royal Hotel is a majestically situated on the stunning coastal front of Alsancak, 5 miles west of Kyrenia Town Centre. A free shuttle service operates from the hotel to Kyrenia Town Centre at scheduled hours during the day.
On the seafront with private sandy beach
6 miles from Kyrenia town
FREE Shuttle Service to Kyrenia Town
45 minutes transfer from Ercan airport
1 hour 25 minutes transfer from Larnaca airport
Merit Royal Premium Hotel
Kyrenia