Noah's Ark Deluxe Hotel & Spa
Bafra
Bafra
Set sail on a truly unique luxury holiday experience at this ark-like hotel close to the beach in North Cyprus
ULTRA ALL INCLUSIVE Family Luxury Beach
Unique hotel design with luxurious spa, pools and amenities!
Families will appreciate the unique concept of staying aboard this replica Noah's Ark. Set sail on a virtual journey surrounded by five star luxury, beautiful accommodation, gorgeous pools and outstanding personal service.  Set on the beach yet close to the nature and wildlife of the stunning Karpaz Peninsula, the Noah's Ark Deluxe Hotel and Spa has it all!
FREE WiFi in all rooms & public areas
Why Holiday Makers Love it
Luxurious Beach Holiday
Outdoor Pools & Aqua Park
A'la Carte Restaurants and Bars
Impressive Facilities and Entertainment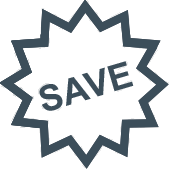 Special Offers available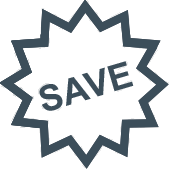 Special Offers available
Noah's Ark Deluxe Hotel and Spa is a surprisingly large holiday complex right on the sandy beach with its own beautiful luxury spa. It welcomes families and couples to enjoy the impressive amenities, sports facilities and lively entertainment. It's the perfect choice for those wanting to stay in Famagusta within easy reach of the scenic Karpaz Peninsula.
Boldly designed as a magnificent ship run aground on one of North Cyprus's most beautiful beaches, the Noah's Ark Deluxe Hotel & Spa boasts a long stretch of soft golden sand and clear turquoise waters of the Mediterranean sea. Guests can relax in the sun beside the beautiful outdoor lagoon pool surrounded by peaceful natural surroundings. This five star hotel has everything you need to relax in the sun, including a serene spa with indoor pool, nightly entertainment, family activities and a host of sports facilities that are hard to beat.
Noah's Ark Deluxe Hotel and Spa makes sure that guests of all ages are taken care of. It has a Kids Club, playground, onsite shop, laundry and more making it a great choice for family holidays in North Cyprus. Spacious, well-appointed rooms with stunning sea views from the balcony are complemented by a choice of bars and restaurants for gourmet dining. Whether you want a relaxing massage or the chance to watch a film beneath the stars, this resort has it all!
Cyprus Premier Experts Recommend
Situated near the unspoilt Karpaz Peninsula with stunning scenery and wildlife on the doorstep, the Noah's Ark Deluxe Hotel and Spa is in a prime location on the longest sandy beach on the island. Guests have the unrivalled experiences of seeing wild donkeys or watching baby sea turtles hatch from their nests on the beach!  Adventurous visitors can explore a traditional mountain village, enjoy tasting cultural delights and seeing historical churches. You can even taste the legendary holy water from a natural spring!
For those who want a more vibrant place to chill out, Famagusta is nearby with plenty of shops, restaurants and cafes for mingling with locals and international tourists. Don't miss photographing the ancient walls of the Old City, which date back to medieval times. Other must-see highlights include Othello's Tower, Namik Kemal Dungeon and the impressive Lala Mustafa Pasha Mosque (St Nicholas Cathedral). 
Please note that some services and amenities may not be available during low season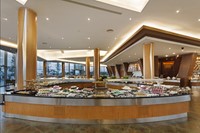 Board Basis Options
Ultra All inclusive• Flora Main Restaurant serves breakfast, lunch and dinner in an open buffet style to the accompaniment of alcoholic and non-alcoholic drinks.• Many light dining options to enhance your holiday experience including a night snack buffet, beach snack service in the summer and a range of bars serving exciting cocktails.• All-inclusive drinks available in the summer at The Aqua Bar, Holiday Village Pool Bar & Mini Bar• Guests can also enjoy complimentary Turkish coffee.• Not cover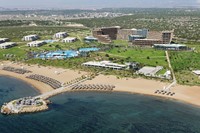 One of the best beaches in North Cyprus
The Noah's Ark Deluxe Hotel and Spa is set beside one of the most beautiful sandy beaches in North Cyprus. Golden sand is washed by clear turquoise waves creating the perfect view from your sun lounger beneath a shady parasol. Enjoy a range of watersports or sit at the beach bar with a long cool drink. It's the perfect place for a beach holiday in the sun!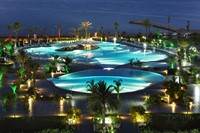 A swim surrounded by nature
Surrounded by sun loungers, the pristine pool is beautifully designed to offer wonderful sea views as you dive in and enjoy an invigorating swim. If you prefer to enjoy the gorgeous views on dry land, the Pool Bar is waiting!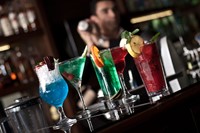 Delicious dining
Every luxury holiday should include memorable dining, and this resort offers a choice of top restaurants. Laden buffets are available for breakfast, lunch and dinner in the Flora Restaurant. As well as local and international dishes, guests are entertained with live shows as part of their gourmet dining experience. For romantic dining with stunning sea views, the Alabora a la Carte Restaurant is a great choice with delicious Turkish cuisine and world specialities. North Cyprus offers excellent fish and seafood, best sampled in the Fora Fish Restaurant which offers local and Mediterranean specialties in an upscale ambience. The trendy Bistro 7/24 is another popular choice for guests with romantic alfresco dining on the terrace beneath the stars. Those with a sweet tooth will find the Patisserie offers delicious light cakes, pastries, coffee and tea specialities in the attractive garden setting.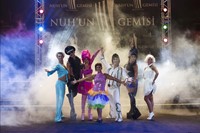 Live shows and open-air films!
Guests at the Noah's Ark Deluxe Hotel and Spa are in for a thrilling time with a huge choice of entertainment, from tennis, basketball, ping pong and football on a FIFA standard pitch to supervised kids' activities. After dark the hotel continues its excellent activities with live music and cultural shows.
Authentic Turkish spa experiences
The Karina Spa & Wellness Centre is an adults-only haven with a calming atmosphere and stunning modern décor. This spacious zone of relaxation includes a beautiful indoor pool, sauna, Turkish bath and steam room for the ultimate pampering treatments. From invigorating body scrubs to seductive massages, guests will not want to leave! After one of the professional beauty treatments, relax in the pool or linger at the spa's healthy vitamin bar. Those looking for a more active holiday will find a state-of-the-art fitness centre for workouts.
Where is the Noah's Ark Deluxe Hotel & Spa?
The Noah's Ark Deluxe Hotel and Spa is situated close to the bay of Famagusta, in the north-eastern part of North Cyprus, close to the small village of Bafra.
55 minutes transfer to Ercan airport
1 hour 45 minutes to Larnaca airport
On the seafront with private sandy beach
Noah's Ark Deluxe Hotel & Spa
Bafra