7 Nights

Fri, 23 Apr 21

Fri, 30 Apr 21
Queen Aphrodite Hotel (Kyrenia)
Hotel Details
Customise Your Holiday
Summary
Final Step
Queen Aphrodite Hotel
Kyrenia
Kyrenia
Perfect hotel for a peaceful getaway
Small & Friendly
Many local amenities within easy reach!
From its light tones and airy decor to its exotic gardens, Queen Aphrodite is an ideal opportunity for a Mediterranean getaway for those who are looking for a carefree holiday while being within easy reach to many local amenities.
FREE WiFi in public areas
Why Holiday Makers Love It
Located Near a Local Nature Park
5 Minutes from Sandy Beach
Close to Many Local Amenities
Lovely Mountain Views
Cosy & Friendly Establishment
Comfortable & Modern Rooms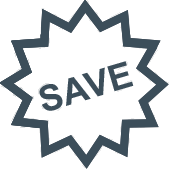 Special Offers available
Duration:
:
This offer can be combined with other offers.
The Queen Aphrodite Hotel combines light and modern accommodation with friendly service and a peaceful atmosphere for a relaxed holiday.
Taking the Greek Goddess Aphrodite as its inspiration, the hotel presents an excellent holiday of absolute tranquillity with its beautiful gardens decorated with impressive stone statues and interiors dressed in lovely paintings. The hotel features light tones, capturing the serenity of its gardens and its surroundings, providing a refreshing atmosphere where guests can relax. With its selection of rooms providing a choice of views and its freshwater swimming pool, as well as its close proximity to sandy beaches and many local amenities, Queen Aphrodite is an ideal choice for holiday makers looking for a relaxed and tranquil getaway.
Cyprus Premier Experts Recommend
The hotel is located in Alsancak, only a few minutes' walk from the main road where you can hop on a minibus to the east which will take you to central Kyrenia with many shops, cafes, bars and restaurants, as well as countless historical places of interest such as the beautiful Kyrenia Harbour and the Kyrenia Castle.
To the west from the hotel is the popular Lapta strip with a range of excellent restaurants and bars as well as a beautiful coastal walkway and a water part for children. Driving to the west will also take you to some of the finest beaches on the island.
If you would like to remain locally, the Alsancak and Karaoglanoglu areas also have plenty to offer, with many local amenities including local cafes and divine restaurants at your service. The area is also packed with history, such as the Martyrs Monument and the Peace and Freedom Museum, as well as the Bronze Age cemetery in the nearby village of Karaman.
Please note that some services and amenities may not be available during low season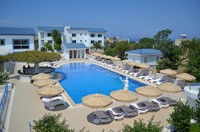 A Peaceful Swim
The freshwater pool is surrounded by the hotel's peaceful gardens, with a statute of Aphrodite as its centrepiece. The pool comes with a separate children's pool on the side, complete with a safety gate to ensure the safety of the children. The Eros Pool Bar is also located right beside the pool to enhance your pool experience with lovely refreshments!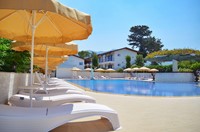 Simply Lovely Food
The Aphrodite Restaurant offers both indoor and al fresco dining. Breakfast and dinner are served as an open buffet offering both traditional and international selections. Guests also have a la carte options they can choose from.
Where is the Queen Aphrodite Hotel?
Queen Aphrodite Hotel is located on the main road of Alsancak, merely 15 minutes' drive from central Kyrenia.
5 minutes walk to the nearest sandy beach (Golden Beach)
15 minutes' drive to central Kyrenia
50 minutes transfer from Ercan Airport
1 hour 30 minutes transfer from Larnaca Airport
Queen Aphrodite Hotel
Kyrenia