7 Nights

Sat, 25 Sep 21

Sat, 02 Oct 21
Salamis Bay Conti Resort (Famagusta/Bafra)
Hotel Details
Customise Your Holiday
Summary
Final Step
Salamis Bay Conti Resort
Famagusta/Bafra
Famagusta/Bafra
Superbly located on one of North Cyprus's finest golden sandy beaches
Luxury
Family
Beach
Perfect base for combining the beach with sightseeing in North Cyprus!
The award-winning Salamis Bay Conti Resort Hotel offers a luxurious destination for fun in the sun. Located right on the beach with endless golden sands and turquoise waters, the resort also has a spa, water park and superb dining. Honeymooners, couples and families can look forward to romantic sunsets and historic attractions in the nearby fabulous old city of Famagusta.
FREE WiFi in all rooms & public areas
Why Holiday Makers Love it
Ideal For Romantic Couples & Families
Located Right On The Sandy Beach
Great Kids Facilities Incl. Aqua Park
Amazing Sea Views
Luxury Spa
Fully Equipped Fitness Centre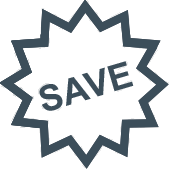 Special Offers available
Duration:
:
This offer can be combined with other offers.
Taking its name from the ancient city of Salamis, The Salamis Bay Conti Resort Hotel is one of the top beachfront resorts in North Cyprus. Recently receiving a Top Choice Award from Holiday Check, this exclusive five star resort has stunningly pools and an exciting aqua park within the hotel grounds.  Friendly and accommodating staff and beautifully appointed rooms ensure that every guest has a wonderful relaxing stay, whether on holiday, attending a conference or on business.
Beautifully located on the eastern coast of North Cyprus, the Salamis Bay Conti Resort Hotel stretches along the golden sands and Mediterranean coastline near historic Famagusta. Guests will find this is a place to relax and be pampered in a peaceful upmarket ambience. The resort has plenty of space for every guest to chill out on the beach or in the gardens. Accommodation is in modern comfortable hotel rooms and beach bungalows with beautiful beach and sea views from private balconies and terraces. The spa is a haven of delights with a Turkish Bath, sauna and a host of relaxing beauty treatments on offer.
Couples and families will enjoy all that the Salamis Bay Conti Resort Hotel has to offer, from a wide range of watersports to superb fitness centre and spa. Lively entertainment and gourmet dining complete the first class experience offered by this exclusive resort.
Beyond the beach, guests may want to explore the nearby area, including the ancient Roman city of Salamis and the walled city of Famagusta. Castles, churches, mountain villages, shops and natural areas offer something for every taste along with shops and bars.
Cyprus Premier Experts Recommend
The Salamis Bay Conti Resort Hotel is in a prime location for enjoying both the beach and famous historical attractions and archaeological sites nearby. The ruins of ancient Salamis are within strolling distance. Once a thriving Roman port and believed to have been the capital of Cyprus as far back as 1100 B.C. it has accommodated Assyrians, Egyptians, Persians and even the Romans during its long history.  It has a vast Roman gymnasium, baths, theatre and large arched tombs and columns which are fascinating to see. These well-preserved remains are a reminder of the magnificent cities and civilisations that existed long ago in North Cyprus.
Famagusta's remarkable walled city is a must-see and is easy to reach via the hotel's shuttle bus that goes into Famagusta twice a day. It takes about 15 minutes to reach the old city of Famagusta with its shops, bars and historic sights. The massive defensive city walls are around 60 feet high and 30 feet thick, dating back to the medieval times. Even youngsters will enjoy exploring the site of the Othello Tower, an interior castle that forms part of the old city walls.
Other North Cyprus attractions include several museums, famous churches and monasteries, such as St. Barnabas and the Icon Museum. Beyond the town, scenic drives will take you to nature reserves with wild donkeys and birds. Mountain trails are suitable for walking or biking with stunning views. Those who want to experience the unspoilt rural, cultural and traditional area of the Karpaz Peninsula will need to hire a car to explore this definite must-see!
Please note that some services and amenities may not be available during low season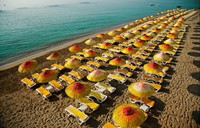 Endless Golden Sands to Enjoy!
Situated right on the famous golden sands at Famagusta, the resort offers sun loungers beneath shady parasols for relaxing. Enjoy swimming and watersports in the clear turquoise waters of the Mediterranean Sea.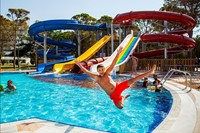 Wet and Wild Fun for all the Family!
As well as indoor and outdoor swimming pools, the Salamis Bay Conti Hotel has an onsite Aqua Park which is a top attraction for youngsters to play and stay cool. Plunge down one of the five colourful water slides or enjoy one of the four large pools and two shallower children's pools.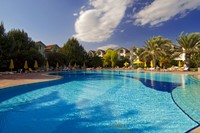 A Lagoon of Fun!
The main lagoon style pool at the Salamis Bay Conti Resort Hotel gives everyone plenty of space to cool off, swim and enjoy this beautiful amenity. Sun loungers are arranged beneath shady palm trees and drinks are never far away at the Pool Bar. With an infinity wall of water, it's a beautiful place to read, relax, sunbathe and chill out.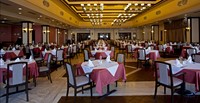 Buffet Dining and Healthy Options!
The main Selçuk Restaurant is the place to head for each day for breakfast, lunch and dinner. Served buffet style, everyone can enjoy their own favourites from the lavish spread of international and local cuisine. The buffet also includes a wide choice of salads and healthy options for those who prefer to maintain a healthy low fat diet. For delicious Cypriot cuisine, book a table at The Turkuaz à la carte restaurant. Guests at the Salamis Bay Conti Resort Hotel will certainly never feel hungry as there is even a midnight soup service! The resort has a choice of bars serving local soft and alcoholic drinks. These include the Lobby Bar, Vitamin Bar, Pool Bar and Beach Bar which are all open in summer. Guests can also enjoy drinks and snacks from the Beach Restaurant. Rooms include minibars which will be filled with refreshing soft drinks on arrival. Refills will be charged to your room bill.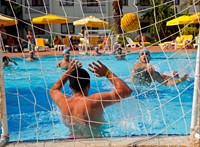 Fun Activities 24/7!
Salamis Bay Conti Resort Hotel has an endless choice of entertainment, fun, games and activities for all ages. As well as a Kids Club, guests can enjoy table tennis, volleyball, billiards, table football and darts. Staff even organise fun matches for guests of all ages to take part in! In addition, the animation team organise pool activities, children's fun events, live music evenings, cultural plays and dance shows, beach parties, disco nights. You can even learn how to belly dance!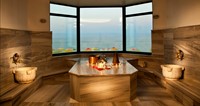 Sauna with a Sea View!
Saunas are a physical and mental cleansing process and the beautiful sauna at the Salamis Bay Conti Resort Hotel even has beach views while you steam your way to a cleansed body. After that, try the traditional Turkish bath with a body peeling and foam massage or relax with a therapeutic massage. The spa also offers Roman and Finnish Baths, a beautiful indoor pool, jacuzzi and a wide range of relaxing and rejuvenating treatments.
Where is the Salamis Bay Conti Resort?
The Salamis Bay Conti Resort Hotel is just 8 miles from historical Famagusta, located on a golden sandy beach, towards the eastern coast of North Cyprus.
On the seafront with private sandy beach
8 miles from Famagusta town
Shuttle Service to Famagusta Town (charges apply)
45 minutes transfer from Ercan airport
1 hour 10 minutes tranfer from Larnaca airport
Salamis Bay Conti Resort
Famagusta/Bafra