Famagusta
Excellent hospitality under the Mediterranean sun
Beach Small & Friendly
Highly Recommended by Cyprus Premier!
Experience the authenticity of a Mediterranean holiday at this brand new modern hotel situated by the coastline in the calm eastern side of North Cyprus, dressed in stylish interiors and only a stone's throw away from the beach.
FREE WiFi in all rooms & public areas
Why Holidaymakers Love It
Seaside Location
Brand New Facilities
Roof Bar with Stunning Views
Small & Friendly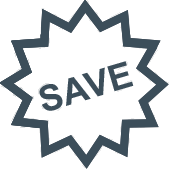 Special Offers available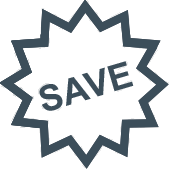 Special Offers available
A lovely beach experience awaits you at Sea Life Hotel's private sandy beach. Along with the hotel's refreshing pool, fitness centre, varied facilities and its close proximity to nearby attractions, guests are in for an all-round holiday!
The hotel is located to the north of Famagusta, in an amazing location right by the sea where guests have the benefit of the sparkling Mediterranean Sea at their doorstep. In addition to the access it provides to the lovely Mediterranean waters, Sea Life Hotel also features an outdoor swimming pool and a separate children's pool. At the hotel guests also have at their service a charming café and a fitness centre, as well as a beauty salon that will undoubtedly enhance your stay.
The hotel is dressed in truly relaxing tones of cream and blue, in total harmony with its beautiful surroundings. The rooms feature contemporary décor with light wooden floors, which add to the hotel's overall atmosphere of relaxation and serenity.
Cyprus Premier Experts Recommend:
Sea Life Hotel benefits from a great location, not only because of its charming and peaceful surroundings, but also its close proximity to local amenities and all the amenities of central Famagusta, giving you a great advantage to enjoy a quiet holiday with easy access to all the excitement of Famagusta and the historical richness of the region.
Close to the hotel is the protected beach area where turtles still lay their eggs. If you're in the lucky season you could even witness the mother turtles burying their eggs or the little hatchlings rushing to meet the sea for the first time. Also within easy reach are the remarkable Roman ruins of Salamis, which make for a fascinating trip down history lane to this day. Famagusta town itself, which is less than 10 miles away from the hotel, is full of historical wonders to explore, as well as a plethora of shops, cafes, bars and restaurants.
Please note that some services and amenities may not be available during low season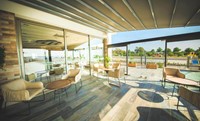 Enjoy Meals with a View
The hotel serves guests with a range of dining options, covering grilled dishes, vegetarian meals, detox menus, among many other things. Breakfast and dinner are served as an open buffet at the hotel's main restaurant, which include Cypriot and European cuisine. Guests also have at their service the lobby bar and the terrace bar. The rooftop bar is an undeniable highlight where guests can enjoy meals and refreshments with beautiful and relaxing views.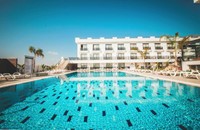 Make a Splash!
The hotel's large pool comes with lots of room for sunbathing with plenty of lounges. The pool has a separate kids' pool next to the main pool. The spacious pool area is surrounded by tall palm trees and stunning views of the Mediterranean Sea. Guests also have the pool bar at their service where they can enrich their pool experience with refreshments and cocktails.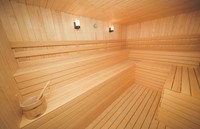 Perfect Place to Unwind
The Ayurvedic Center provides an excellent opportunity for guests to relax with its spa services and beauty treatments. Guests can pamper themselves with a range of packages covering massages, facial and body treatments, aromatherapy and yoga. The array of products used at the spa is sure to give you a unique experience tailored just for you.
Where is the Sea Life Hotel?
Sea Life Hotel is located to the north of Famagusta right by the beach, within easy access to Famagusta town and the renowned Karpaz Peninsula.
On the seafront with private sandy beach
10 miles from Famagusta town
2 miles from the Salamis ruins
55 minutes drive from Ercan airport
1 hour 30 minutes from Larnaca airport