7 Nights

Mon, 10 May 21

Mon, 17 May 21
Vuni Palace Hotel (Kyrenia)
Hotel Details
Customise Your Holiday
Summary
Final Step
Vuni Palace Hotel
Kyrenia
Kyrenia
Prestigious seaside hotel with five star accommodation and amenities in a sought-after holiday hot spot in North Cyprus.
Luxury
Family
Beach
Fabulous Kyrenian resort for relaxing seaside holidays!
Vuni Palace Hotel is a superb choice for families and couples wanting to enjoy all that Kyrenia has to offer. The glittering interior décor, attentive staff and exotic gardens lined with palm trees and exotic landscaping, provide the perfect place to relax and chill out. Set in a prime location right on the beach, this luxury hotel was awarded Corendon's Hotel of the Year 2016 for its all-round luxury experience.
FREE WiFi in all rooms & public areas
Why Holiday Makers Love it
Stunning Location Right On The Beach
Rich Furnishings And Decor
Evening Meal With Sunset Views
Outstanding Hospitality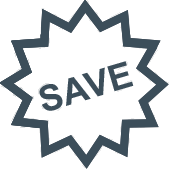 Special Offers available
Duration:
:
This offer can be combined with other offers.
The award-winning Vuni Palace Hotel and Casino offers a breathtaking five star beach holiday experience, conveniently close to the centre of Kyrenia. Its immaculate landscaping, extensive outdoor pools, exceptional facilities and outstanding entertainment programs combine to provide an unforgettable holiday experience in North Cyprus. 
This modern hotel has contemporary decor throughout the plush and spacious rooms and suites. Balconies offer superb views of the gorgeous sandy beach and brilliant blue Mediterranean Sea. The hotel is surrounded by tropical gardens with walkways through the exotic plants and foliage. The unusual swimming pool provides an attractive focal point. A stone jetty leads to an attractive circular terrace in this modern luxury hotel. Guests can look forward to pampering treatments in the serene spa or spend the day relaxing beneath a shady parasol on the golden sandy beach.
The hotel's superior amenities are matched by the highest levels of Turkish hospitality as staff provide guests with everything they need to ensure a relaxing and enjoyable holiday. The elegant and spacious rooms have all the latest facilities for maximum comfort and attention to detail, including modern luxury bathrooms.
When it comes to fun and entertainment, the Vuni Palace Hotel and Casino pulls out all the stops with a full program of outdoor shows in their fantastic amphitheatre. Guests can also join in the karaoke nights, bingo and music quizzes as well as challenging sports activities and the Kids Club activities arranged by hotel staff. There's something for everyone to look forward to at this top hotel in Kyrenia.  
Cyprus Premier Experts Recommend
The Vuni Palace Hotel and Casino is conveniently located close to the centre of Kyrenia and just a five-minute drive to the harbour. This is a popular area for shopping, exploring the historic castle and Shipwreck Museum or sipping an authentic Turkish coffee at a local café. The local mini buses are called a dolmus and they run frequently along the main road for getting around the area. Alternatively, hop aboard the  hotel's 'Noddy' road train that runs to and from Kyrenia town centre at scheduled times.
Around the harbour is the Carob and Cyprus Life Museum which is often overlooked. Located in one of the old Carob warehouses, it is packed with interesting local exhibits. The first floor explains carob and olive production, whilst the second and third floors have an informative films and displays of local handicrafts.
The mountain village of Bellapais is highly recommended with its ancient Abbey, charming shops and panoramic views. It is just two miles away from the centre of Kyrenia. There is plenty to enjoy in this delightful village including exploring the monastery and taking in the Gothic art and architecture. The neighbouring church is also a fascinating place to explore.
Those wanting to explore the scenic area on horseback can arrange guided rides from the Catalkoy Riding Stables east of Kyrenia. It's a great opportunity to explore the Kyrenia Mountain Range and see some remarkable historical sites!  Fully guided rides for beginners include learning how to mount and ride a horse. Your hotel receptionist will have more details about places to visit from the Vuni Palace Hotel and Casino.
Please note that some services and amenities may not be available during low season

Dip in the Turquoise Waters
The soft golden sands and warm Mediterranean sea waters are a delight for those wanting to enjoy a relaxing beach holiday in the sun. The calm shallow sea is ideal for youngsters and is perfect for paddling at the water's edge before plunging in for a cooling swim surrounded by majestic scenery.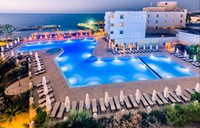 Three Pools for Cooling Swims
The Vuni Palace Hotel and Casino provides three swimming pools which are open all year. The splendid outdoor pool is reached via an elegant staircase which provides stunning sea views from its elevated position. The pool includes a separate shallow children's area. The luxurious indoor pool is perfect for revitalising in the calm and tranquil atmosphere of the upscale spa. During the summer, hotel staff arrange plenty of fun activities poolside to add to the fun for families and couples looking for a good time.
Dine Al Fresco
The Vuni Palace Hotel and Casino offers an extensive choice of international and Turkish cuisine as part of their buffet menu. Breakfast, lunch and dinner buffets are served in the luxurious Terrace Restaurant which has indoor and outdoor tables. The upscale Vogue Lounge has a gourmet open buffet while the intimate Mirror Restaurant has à la carte dining with impeccable service. For snacks, drinks and refreshments, guests can visit the summer Beach Bar, the Terrace or the Lobby Bar which is open 24 hours and has a pool table.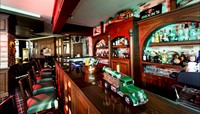 As the sun goes down, dress up and enjoy!
Beyond the opulent casino, the Vuni Palace Hotel and Casino offers on-going entertainment which includes live concerts and cultural shows in their outdoor amphitheatre. Elsewhere you can listen to live music and join in karaoke, bingo, music quizzes and organised sports-activities. Younger guests have their own dedicated children's programme. During the busy summer season, the hotel offers yoga classes, water gymnastics, pool games, bocce, shuffleboard and water polo as well as darts, table tennis, chess and backgammon tournaments.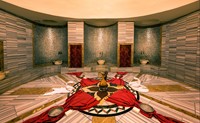 Traditional Turkish Bath in the Spa
The Spa at the Vuni Palace Hotel and Casino is a place of indulgent relaxation with a luxury sauna, steam bath, indoor swimming pool and a spacious Turkish Bath for traditional pampering. Expert beauticians offer massages, body and hair treatments to make every guest feel like a VIP!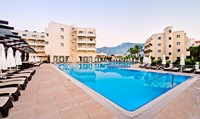 Kids will never be bored!
Children are not forgotten at The Vuni Palace Hotel and Casino. While parents can enjoy quality time on the beach or in the spa, kids are having a whale of a time at the Children's Club. Games and supervised activities are offered by experienced staff for children aged between 4 and 12 years. • Mini club • Play room with supervised activities, table games & toys, kid's films, computer games and activities • Animation team to entertain throughout the day with different activities • Exciting rides at the funfair • Child-friendly pools and beach
Where is the Vuni Palace Hotel?
The Vuni Palace Hotel and Casino is ideally located around a 5 minute drive from central Kyrenia, on the coast of Karakum.
On the seafront with private sandy beach
20 minute walk to Kyrenia town
40 minutes transfer to Ercan airport
1 hour 30 minutes transfer to Larnaca
Vuni Palace Hotel
Kyrenia